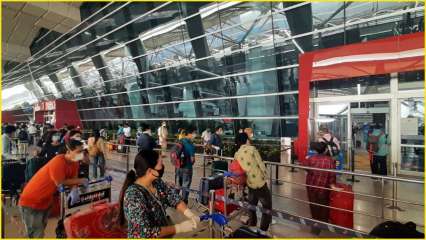 Amid the growing new variants of COVID-19 and Centre issuing new guidelines for passengers travelling to India, the Delhi International Airport Limited (DIAL) on Monday announced the launch of a revamped Air Suvidha portal and new RT-PCR packages for travellers coming from abroad.
When you open the Air Suvidha portal, users are now shown important passenger advisories explaining the new protocols. They are also linked to the latest set of government guidelines.
As per the new guidelines, it is mandatory for all international passengers to fill up the Self Declaration forms (SDF) available on Air Suvidha and they have to upload mandatory RT-PCR tests 72 hours before departure.
A DIAL official said, "The SDF will also help identify passengers from high risk countries such as the United Kingdom, Brazil and South Africa. A new field for declaring domestic connection has been added in the Air Suvidha portal. This will help implementation of new SOP for domestic transit passengers and also help improve contact tracing."
SOP for international travellers
All passengers arriving from the UK, Europe and Middle East have to undergo RT-PCR tests upon arrival.
The new government procedures are applicable for all incoming passengers from UK, Brazil and South Africa.
The broader categorisation was done because there are no direct flights in-between India, South Africa and Brazil.
Most passengers arriving from these countries come via Europe or the Middle East.
The SOPs will be valid from February 22 till further orders.