The Magic of Mikhail Zinar II: Curiosities and more
Study of the Month: March 2021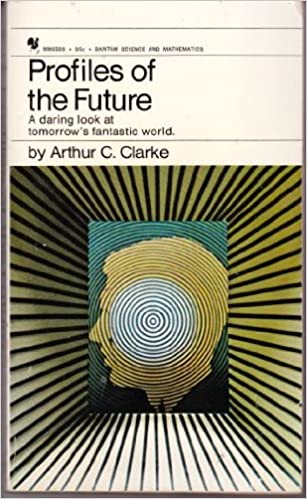 Last month, Mikhail Zinar's pawn endgame studies were at the centre of our selection while his early years up to 1990 were recapitulated, based on a 2008 article by Sergey N. Tkachenko. This month we will conclude our view at the recently deceased master, showing his more unusual ideas as replayable studies while providing more background information on his life.
Arthur C. Clarke wrote his "Profiles of the Future" in 1962. His three laws can apply to chess composition as well:
When a distinguished but elderly scientist [chess composer] states that something is possible, he is almost certainly right; when he states that something is impossible, he is probably wrong.
The only way to discover the limits of the possible is to venture a little way past them into the impossible.
Any sufficiently advanced technology [composing technique] is indistinguishable from magic.
General information
The following information again, like last month, is mostly taken from Sergey Tkachenko's 2008 article about Zinar. If you skipped our previous month's article or don't remember what happened so far in Zinar's life, feel free to read it (possibly again). As of October 2020, there were over 600 endgame studies by the master, but those include versions, corrections, modifications (from what I understand, those are versions created by other composers).
Disappearance
In 1990, Mikhail Zinar disappeared. The once prolific composer stopped sending originals to magazines and tourneys, and rumours began to spread that he had died. However, it was the contrary — not the end of a life but the beginning of one — that ended the master's career: a daughter was born. In the last days of the Soviet Union, Gvozdavka once more became Zinar's home; farming his occupation. Working as a teacher for a while, the lack of a diploma meant that he lacked the now demanded pedagogic studies, and soon had to leave the school teacher occupation.
"Shakhmatny listok" had changed its name to "Shakhmaty v SSSR" in 1931. Now the magazine once more changed its name to "Shakhmatny vestnik". Yuri Averbakh and his co-workers enlisted the help of Sergey N. Tkachenko as a 'mailbox' for the magazine, and at one point in 1995 he had to forward mails to Mikhail Zinar. Zinar did not reply.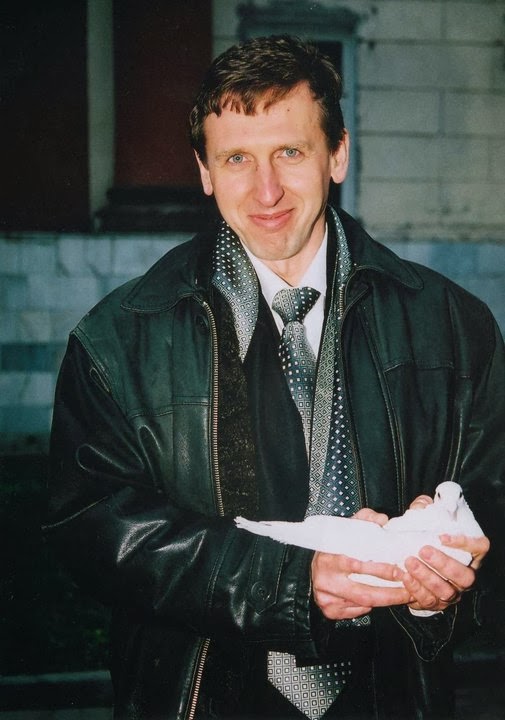 Then, in February 1996, Sergey N. Tkachenko [pictured, arves.org] was arrested for stealing foreign cars on multiple occasions. The once revered chess composer was caught as he prepared his passport to travel to a chess composition meeting in Tel Aviv. Police confirmed his birthdate, first name, surname, otchestvo (patronym), and indeed, Sergey Nikolaevich Tkachenko, born 26 January 1963 in the Odessa region, was a wanted person. Striking a deal with the prosecutor's office of Odessa, Tkachenko after a few days in jail could talk with the prosecutor at Ananyev, where the case was investigated. It turned out that the chess composer was innocent, another man with the same data — or was it identity thief? — was the culprit.
On the way back from Odessa, Tkachenko decided to visit Gvozdavka and met with Zinar, who returned from his work at school. Zinar complained about postal expenses being not within his budget, and the time spent for endgame studies being wasted. He said, "Who needs our illusionary art nowadays?"
Unbeknownst to the western composers, Zinar was still alive, but had chosen a reclusive life. However, as the meeting went on and a bottle of wine was degustated, so were exchanged endgame studies. Zinar showed sketches he had made, and Tkachenko showed his own works. Tkachenko believed that the birthing pains of a young nation hindered Zinar, but his financial and general situation would improve. After all, a chess composition circle had been founded for the Black Sea Region.
However, a political crisis turned violent at the time, as candidates for mayor of Odessa fought each other. This ended the chess circle, as the patron had to flee, and Tkachenko, despite his best efforts, did not have enough financial power to support it.
So was everything a lost cause?
Tkachenko learned not only about the death of Anatoly Kuznetsov (1932 – 2000, not to be confused with Alexander Kuznetsov, 1913 – 1982) in the year 2000 but also about the death of Mikhail Zinar. The chess press wrote about it. Most likely this is also what Didukh saw and later wrote about (see The Magic of Mikhail Zinar I, i.e. the previous month's Study of the Month article).
Tkachenko details his research on Zinar in the article, contacting Harold van der Heijden about an endgame study, and Harold sending some information back.
Now I must make a personal confession and apology: In my early days, when I was 17 or 18, I sent a very strong-worded letter to Harold van der Heijden, in which I presented my cook research (I plan to talk about cookhunting in an article soon), but due to the language barrier I wrote things like 'Idiot [composer]' instead of 'An idiotic oversight by [composer]' — which also would have been too strong-worded. Rightfully Harold told me that my language was inappropriate. I apologize!
The second life
I believe that this is where I come in. Sergiy Didukh, the young Ukrainian talent at the time (now a well established commenter and composer of endgame studies, who is controversial at times but always speaks his mind, which I very much respect) had started learning chess composition with a book called "The Harmony of pawn endgame studies" (Гармония пешечного этюда). The 1990 book was written by a Ukrainian expert on pawn endgame studies named…Mikhail Zinar — the book also bears the name of Vladimir Archakov on the cover (see the end of this article).
The foundation of Didukh's understanding of endgame studies was laid there, it seems, and the brilliant composer was thankful to Zinar. So, when he learned about Zinar's death, he offered Sergey Tkachenko to help him write a book about pawn endgame studies. Evidently, shortly after I opened my thread on MatPlus asking about Zinar's whereabouts, Didukh contacted the local authorities in Gvozdavka to ask about further information about Zinar's death.
What was thought to be a short inquiry, a final requiem to a great master, took an unexpected and pleasant route. Officials confirmed that Zinar…was "working at school". He was still alive.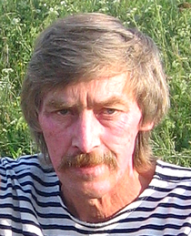 Tkachenko and Didukh managed to get Zinar back to composing — possibly when Zinar learned that his "illusionary art" had spawned many fans and disciples of his work? — and this 'resurrection' also spawned a tourney in Problemist Ukraini for pawn endgame studies, judged by Zinar. Zinar wrote about judging the Grigoriev MT in 1986, where 130 compositions from 55 authors were entered — prior to getting to Zinar's own compositions, the winner is replayable below. Zinar, astonished by the rich harvest, wrote: "Нет предела пешечному этюду!" ("The pawn endgame study is limitless [in ideas]!").
Of course, the same judgment was not possible 20 years later, as Zinar looked at what had happened in the meantime. Only very few pawn endgame studies had appeared that were of value. Pawn endgame studies were dead, and Zinar prepared for a rather uneventful tourney. Once more he was proven wrong, as 109 compositions from 32 authors were entered (and once more the winner is replayable below). His award was aptly named "Нет предела пешечному этюду-2!" ("The pawn endgame study is limitless 2!"). Below a short look at Zinar's judgments, I will add some more information and a few general thoughts. (NB by your author: I also had entered the tourney, but my study was not awarded.)
Select an entry from the list to switch between studies
The studies borrow from Zinar — they are more than an inspiration, but still were sufficiently original. Considering Zinar's earlier work, I feel that it is quite similar, but Zinar decided to make the Didukh and Gurgenidze study each the winner of the — his — tourney.
Last month, I presented two examples of how Zinar inspired me as well, and it is without a doubt that many more composers were inspired by his endgame studies. I have a personal preference for pawn endgame ideas if they are done well, and others also composed in that field. So, wouldn't Zinar himself compose any more?
At the time — 25 November 2008 — Tkachenko closed his article noting that Zinar had composed over 30 endgame studies in the past seven months. Yes, he returned indeed!
The database of Harold van der Heijden (sixth edition, October 2020) allows a more complete picture: since 2007, Mikhail Zinar has published 275 endgame studies in total (i.e. with versions, corrections, etc.; possibly also corrections of his 'post-resurrection' studies by other authors). Nearly half of all of his endgame studies were published after he was first reported dead.
Now Zinar unfortunately has really passed away on 4 February 2021. His art, his influence, the admiration for him still live on, and will so for a long time, just as for Grigoriev. And let us close light-heartedly: now that we believe in resurrection, do we also believe in reincarnation? Grigoriev died in 1938. Zinar was born in 1950. Will the year 2033 see the birth of the third superstar of pawn endgame studies?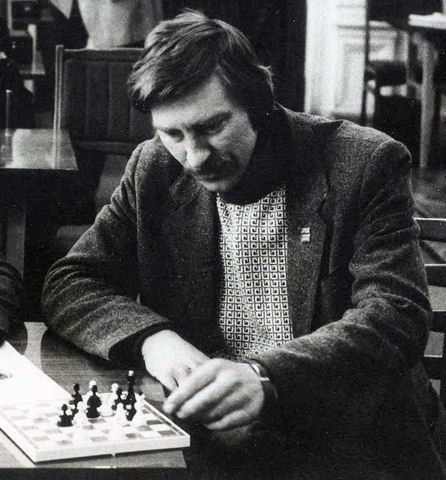 Final thoughts
I was a big fan. For me, it was an incredibly happy day when I learned that Zinar was still alive and working in school. So my first reaction was to ask for someone to visit Zinar, to ask the questions that we wanted to ask — i.e. interview him. Tkachenko later did exactly that and wrote the article that much of this and the previous month's article by me is based upon. Sergiy Didukh and Sergey N. Tkachenko were the ones who wanted to write about Zinar, and thus brought him back to chess composition. They, apart from Zinar himself, are the heroes of our story.
Mythological and religious scriptures, such as the Bible, sometimes talk about resurrection or reincarnation. We live millennia after the inception of those books, so we don't know how much of what is described there is true. Actual resurrections of people sometimes happen — in rare cases — and the same doctors who declared them dead hours earlier will tell us later that they weren't completely dead yet. Death is one of the biggest mysteries of life.
For Zinar, it was not a literal resurrection. Emotionally it felt like one, maybe similar to when parents find a missing child after having lost all hope. I was emotionally invested when this happened, and I still am. The article here was written by a fan of Zinar's work. As such the replayable selection below shall be seen thus: from a fan, for (current or potential) fans. While the past month, the pawn endgames were in the focus of the selection, and more was only hinted at, this time the selection includes endgame studies with underpromotions and a few tasks that include other pieces on the board — some of Zinar's favourite ideas.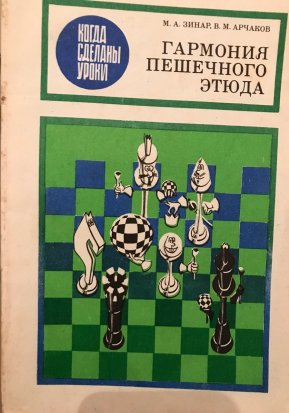 The now deceased master has left a legacy not only in his endgame studies but also in at least two generations of composers who admire his works. The fascination for such an artwork is difficult, if not impossible, to completely transmit with words and a selection of his works alone, and so readers who understand Russian might want to seek out Zinar's books. Unfortunately, I am not aware of any comprehensive list of the books he participated in. However, in his article, Sergey N. Tkachenko shared a little secret in 2008, as Archakov provided the means for Zinar, then financially impotent, to publish his already finished manuscript. So the book "The Harmony of pawn endgame studies" (Гармония пешечного этюда) can be seen as Zinar's selection of endgame studies he deems worth of publication. Thirty years later, it is still worth reading, if you understand the language.
Of course, if you don't understand Russian, it is easy to learn the notation: browse through the pages without understanding the text, but understanding the solutions. Chess, after all, is a universal language: Gens una sumus.
(Thanks to Sergey N. Tkachenko for his extensive 2008 article on Zinar, and to Rainer Staudte for looking at my drafts, for this and the previous month's articles on Mikhail Zinar!)
Click or tap an entry in the list to switch positions
You probably know that you can move pieces on our replay boards to analyse and even start an engine to help you. You can maximize the replayer, auto-play, flip the board and even change the piece style in the bar below the board.
At the bottom of the notation window on the right there are buttons for editing (delete, promote, cut lines, unannotate, undo, redo) save, play out the position against Fritz and even embed the ChessBase game viewer on your website or blog. Hovering the mouse over any button will show you its function.
---
---
World Federation for Chess Composition (www.wfcc.ch)
Links