Taliban in Afghanistan: Will it be India-Russia-Iran vs China-Pakistan? – Times of India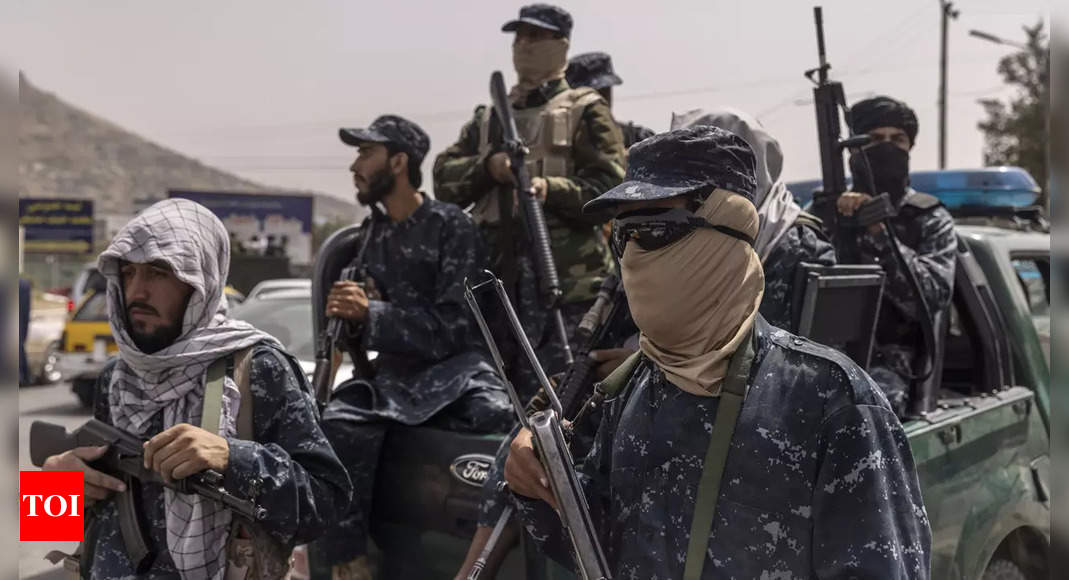 NEW DELHI: China and Pakistan seem to be staring at a trilateral challenge as they push for influence in war-ravaged
Afghanistan
.
A senior
Gulf
Arab official said on Monday that if there was to be a geopolitical struggle over Afghanistan, it would be between China and Pakistan on the one hand and Russia, Iran and India on the other.
The official told Reuters that US — which withdrew its troops from Afghanistan last month — would not be part of the struggle.
Tug of war
China and Pakistan have been at the forefront of the geopolitical power play in Afghanistan ever since gun-toting
Taliban
militants stormed their way to power in Kabul.
While Pakistan's ISI is known to have nurtured Taliban since long, China is eyeing Afghanistan's rich mineral resources and wants to extend its multi-billion dollar Belt & Road project to the country.
However, it seems that emergence of key regional players may serve as a counterweight to a possible Pakistan-China dalliance over Afghanistan.
A wary Russia
After its initial overtures to Taliban, Russia seems to have hardened its position on Afghanistan and is unwilling to negotiate with its new government.
It had also declined to attend the inauguration of the new Afghanistan government.
Russia is increasingly wary of the various terror groups operating in the region and said it doesn't want Afghanistan soil to be used as a source of terrorism.
Wary of the terror threat, Russia recently sent armoured vehicles and military equipment to Tajikistan, which borders Afghanistan.
Russia's concerns on terror is shared by India, which has also said it doesn't want Afghanistan to become a hotbed of terror.
Russian ambassador to India Nikolay Kudashev said joint concerns on regional security bring Russia and India together.
Last week, top Russian security official Gen Nikolay Patrushev held separate talks with National Security Advisor (NSA) Ajit Doval and Prime Minister Narendra Modi on the situation in Afghanistan.
Iran's indignation
Though there were early signs rapprochement, the region's dominant Muslim Shia power Iran is again back on cold terms with Afghanistan.
It expressed strong condemnation over Taliban's recent actions in the Panjshir valley, which was the last pocket of resistance against the country's new rulers.
It also called Afghanistan's new government "non-inclusive" and lashed out at Pakistan's overt involvement in Afghanistan's internal matters.
Iran, which shares a 900 kilometre border with Afghanistan, had not recognised the Taliban during their 1996 to 2001 stint in power either.
Meanwhile, India has been engaging closely with Iran over the situation in Afghanistan.
The Print reported that Iran's foreign minister Hossein Amirabdollahian is likely to visit India later this month as the Taliban government takes hold. He had earlier discussed the situation with external affairs minister S Jaishankar.
Jaishankar is now likely to hold a series of bilateral meetings at Tajik capital city Dushanbe with his counterparts from Russia, Iran and Tajikistan among others.
India's cautious silence
India wants to work closely with regional heavyweights to ensure that a volatile Afghanistan doesn't trigger security concerns in its backyard.
The last time Taliban were in power, India witnessed a significant rise in militancy in Kashmir.
India has already expressed concerns that Afghan soil could be used for terror activities under Taliban, a situation that could be exploited by Pakistan.
Indian officials with direct knowledge of strategic planning for the region say that the Taliban's rise could draw more recruits and weapons for Kashmiri fighters coming from the Pakistani side.
But India is left with no diplomatic presence in Kabul and is yet to engage in proper talks with Taliban. It held its first official meeting with a Taliban representative in Qatar on August 31 but not much detail was provided by the foreign ministry.
Thus, maintaining close regional alliances with countries like Russia and Iran which could keep China or Pakistan's influence in check has become important for India.
(With inputs from agencies)