Norway Chess: Karjakin takes down Carlsen
Nepo beats Rapport in Armageddon
There are no more undefeated players at the Norway Chess Tournament in Stavanger. Leader Richard Rapport and world champion Magnus Carlsen had not suffered any losses in the first four rounds, but were defeated for the first time on Sundays. While Carlsen lost his classical encounter against Sergey Karjakin, Rapport was defeated by Ian Nepomniachtchi in Armageddon.
With five rounds to go, Rapport continues to lead the standings table, a point ahead of Nepo. Karjakin climbed to third place, leaving Carlsen in shared fourth with Alireza Firouzja. The latter scored his first win of the event, and it was a big one, as he got to collect 3 points after winning his classical game against Aryan Tari.
Firouzja will have the tough task of facing a wounded Carlsen with the black pieces in Monday's sixth round, while Rapport will try to widen the gap atop the table in his white game against a struggling Tari.
Alireza Firouzja | Photo: Lennart Ootes
Karjakin 3 – 0 Carlsen
Facing the man who challenged him for the world crown in 2016, Carlsen used the main weapon he used with black in his 2018 match against Fabiano Caruana — the Sicilian Sveshnikov. The players followed 17 moves of theory, repeating a line that was seen for the last time in a 2016 correspondence game.
Both contenders had their trumps in a complex middlegame position. On move 24, Karjakin spent almost 17 minutes before going for a positional exchange sacrifice.
24.Rc6 appeared on the board, and Carlsen spent 8 minutes on 24…Bxc6. After 25.dxc6 Rc4 26.a4, the world champion again found himself facing a tough decision.
Again the Norwegian had a long think and, consistently with what he had shown since the start of the game, he went for the risky 26…Nd4 instead of 26…Rxa4 (the move Karjakin thought he would play).
There followed 27.Nxd4 Bxd4 28.axb5 d5 (the engines consider 28…Rc5 to be stronger) 29.Rc1 Rxc1+ 30.Bxc1 Qb6 31.Be3
Karjakin noted that he already felt he was clearly better at this point, and from here on it was a matter of finding out if he would be able to convert his advantage. Of course, Carlsen did not go down without a fight, as he continued to create problems for his opponent until resignation came on move 54.
It was a memorable win for Karjakin, who immediately bounced back from his painful loss against Nepomniachtchi. The Russian described the game to Anastasiya Karlovich:
I think he went for the big fight, and anything could happen. For his tournament situation, he wanted to fight, so it was normal. I mean, it could have gone in a different way — he could have played a very good game, he could have won, and then everyone will say, "good decision, right decision" . So it just depended on his form, and maybe today he didn't play his best chess.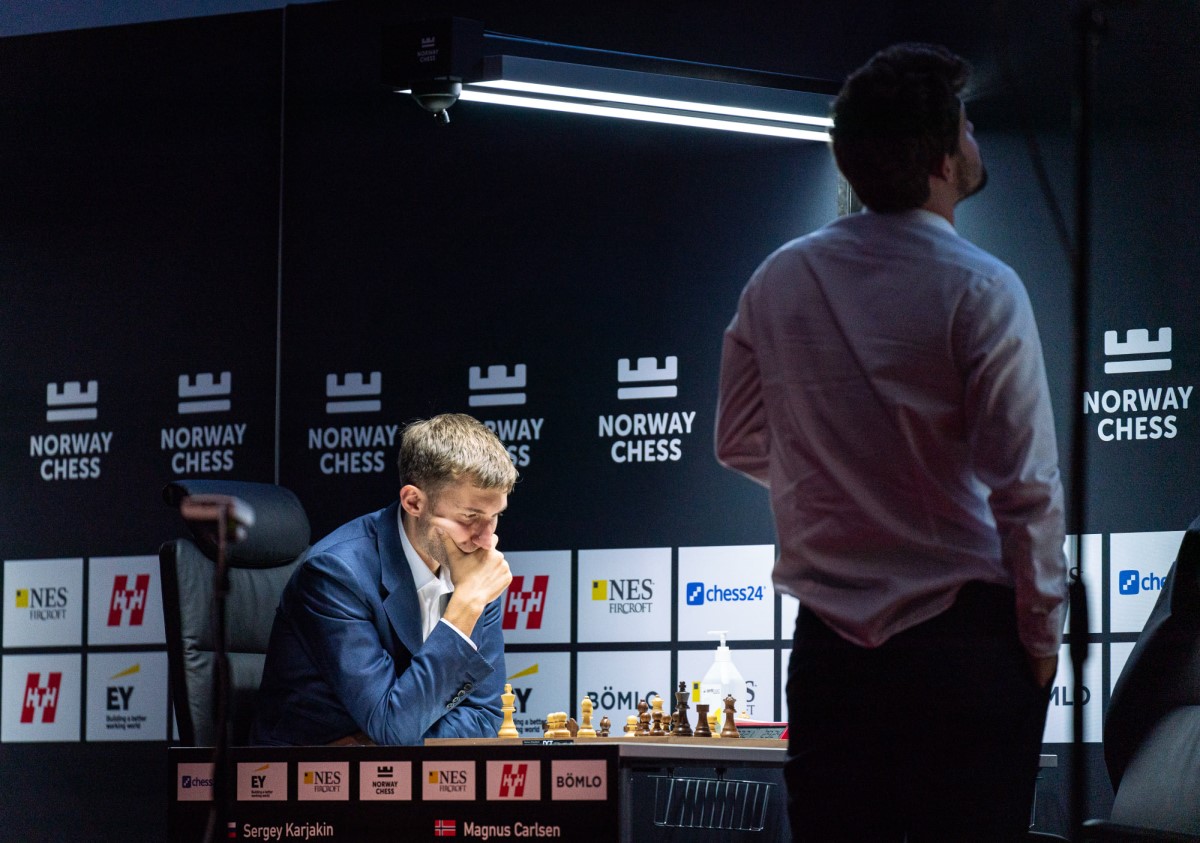 A double-edged battle — Sergey Karjakin vs Magnus Carlsen | Photo: Lennart Ootes
Nepomniachtchi 1½ – 1 Rapport
After signing a 36-move draw in their classical encounter, the ever-resourceful Rapport played the Scandinavian Defence in the tiebreaker. Both kings remained in the centre — Black infiltrated with his queen.
After 20.Rh3, Rapport decided to give up his queen for a rook and a piece with 20…Nxd2 21.Rxh2 Nf3+ 22.Kd1 Nxh2 — the less drastic 20…Qc7 was also playable.
A series of simplifications followed, and soon the contenders reached a position with queen against rook and bishop, plus six pawns per side.
This setup favours white, but Nepo had to work hard to get the full point, as Rapport only resigned on move 69.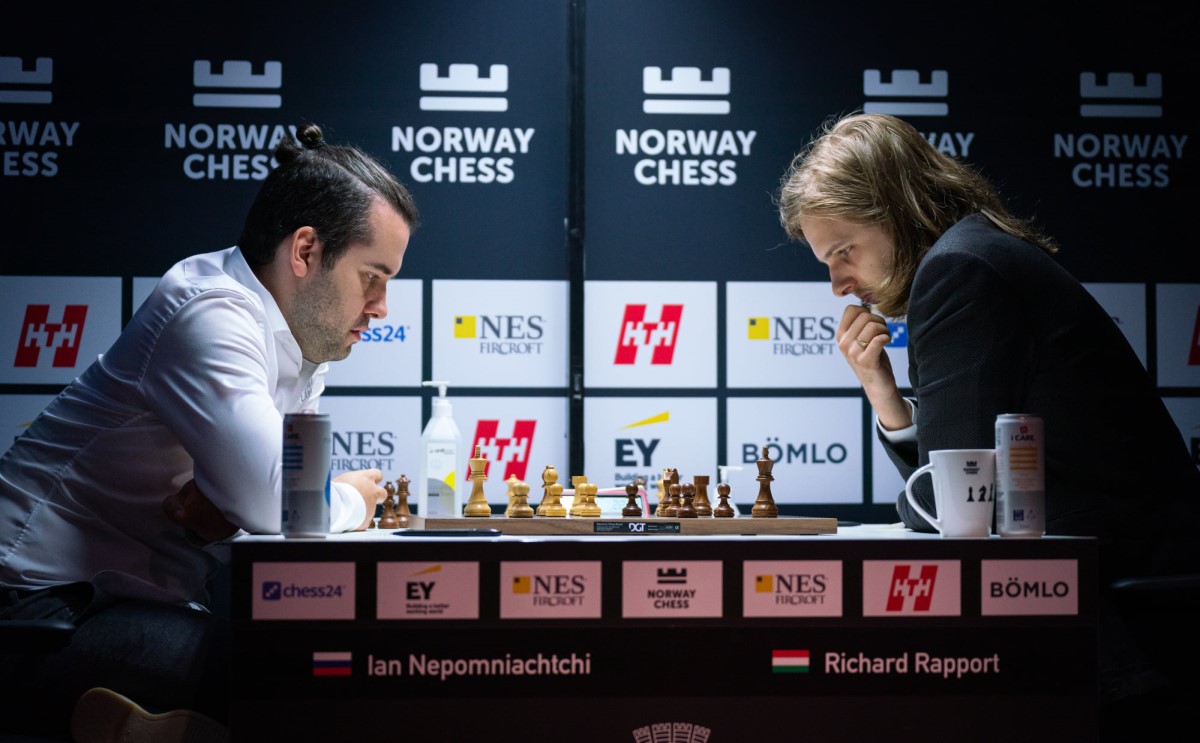 Ian Nepomniachtchi versus Richard Rapport | Photo: Lennart Ootes
Firouzja 3 – 0 Tari
In the battle between the two youngest players in the field, a tense middlegame position was reached after 24 moves.
Firouzja and Tari came from repeating moves twice with Be3-Qc7. Here, however, instead of going for the quick draw, Firouzja kept the fight alive with 25.Kh1. The engines suggest 25…Bc4 as the best response, a move which Tari missed (as he confessed later on) — he only saw 25…Ng6
White now got a better position with 26.Qxe8+ Rxe8 27.Rxe8+ Kh7 28.Re2
Black unpinned his knight with 28…Kg8, and after 29.Be3 he erred with 29…c5 (29…Qa6 was better). Firouzja found 30.Rd1 Qc6 31.Red2, when Black's attack along the light-squared diagonal is not dangerous since the knight protects h1, while White will get to wreak havoc on his opponent's position along the d-file.
31…Bxg2+ 32.Kh2 Bf3 33.Rd8+ Kh7 34.R1d6 Qc7 35.R6d7 Qc6 36.Rxf7 and Tari resigned.
---
Standings after Round 5
| | | |
| --- | --- | --- |
| Player | Games | Points |
| Richard Rapport | 5 | 9½ |
| Ian Nepomniactchi | 5 | 8½ |
| Sergey Karjakin | 5 | 7 |
| Magnus Carlsen | 5 | 6 |
| Alireza Firouzja | 5 | 6 |
| Aryan Tari | 5 | 3 |
---
Links