Mongolian team wins Online Chess Championship for prisoners
Mongolia beats Zimbabwe in the final
Press release by FIDE
Team Mongolia became the winner of the first Intercontinental Online Chess Championship for Prisoners after defeating Team Zimbabwe in the final of the biggest ever chess event among correctional facilities. The event was organized by FIDE and the Cook County Sheriff's Office (Chicago, IL, USA) and coincided with the International Day of Education in Prison.
Both matches of the day were tremendously close, showing that these two teams clearly deserved to be in the final. The first round of the final was won by team Zimbabwe 2½–1½. Mongolia bounced back and won the second set 3-1, winning the final on game points.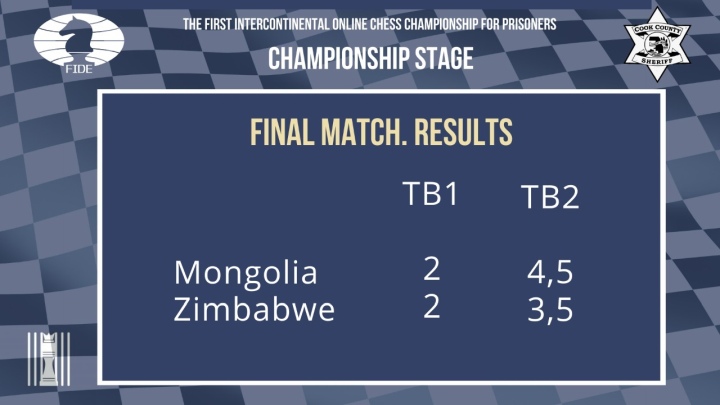 In a short interview, IM and WGM Batchimeg Tuvshintugs talked about the experience of Mongolia in teaching and playing chess in prisons:
I am a national team player and have a Woman Grandmaster title. And at the same time, I am working at the Court Decision Making Agency of Mongolia. We've been doing several projects in our country. First of all, we've been organizing different chess events in correctional units, and our staff plays chess too. Mongolian chess has a great history, especially in correctional units. Since 1956 we started organizing chess tournaments in all our correctional units, so it's like a traditional tournament for us. The Mongolian amateur chess level is pretty high, I consider, so it's no wonder our prisoners are doing quite well in this tournament.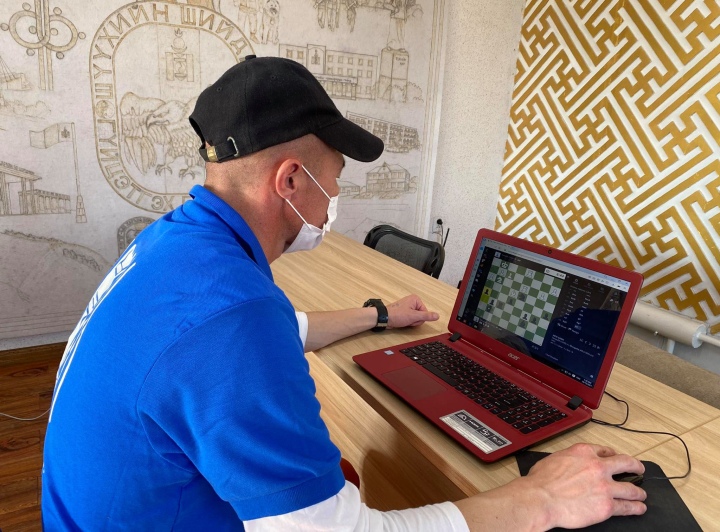 Despite the loss on the final day of the event, team Zimbabwe was very excited about the performance of its players, already looking forward to playing in the next year tournament: "Chess in prisons program in Zimbabwe is ongoing for the past six years", said Thabo Elisha, Public Relations Director at Zimbabwe Chess Federation. He elaborated:
We are regularly having competitions, and this is the third time we are playing against people outside our continent. We are very satisfied with our performance and results we had against our opponents and touched by their stories. We want to thank organizers for hosting such an event. We will do our best and try to win the event next year. Our success this time will help us to develop chess in the prison program, attract more attention from companies, sponsors, and individuals. We hope to get more chess equipment for our team: chessboard and books, and to organize more chess events for prisoners. We will be looking forward to the next intercontinental event and our team will do its best to get on top!
FIDE President Arkady Dvorkovich attended the online closing ceremony of the 1st Intercontinental Online Chess Championship for Prisoners and congratulated the finalists:
I want to congratulate Mongolia on winning the event and Zimbabwe on finishing second. These are great achievements and great inspiration for many people who are joining the chess community. I was in Chicago with Cook County Sheriff Tom Dart a couple of days before, greeting the US team on site in the prison, and had a lovely conversation about chess and played a game with one of the inmates. For me personally and for FIDE, it is a great inspiration to continue and to expand this project to more and more countries. And I hope that you, as the best teams of this championship, will share your experience and will continue to learn chess and to play chess, passing this love to other people around you.
How did they reach the final?
Mongolia was the first team to progress to the final by winning the Group 1 round-robin tournament with a perfect score. Team Russia finished as runner-up with four victories (the Philippines, Georgia, Palestine and Germany) and one loss (to Mongolia).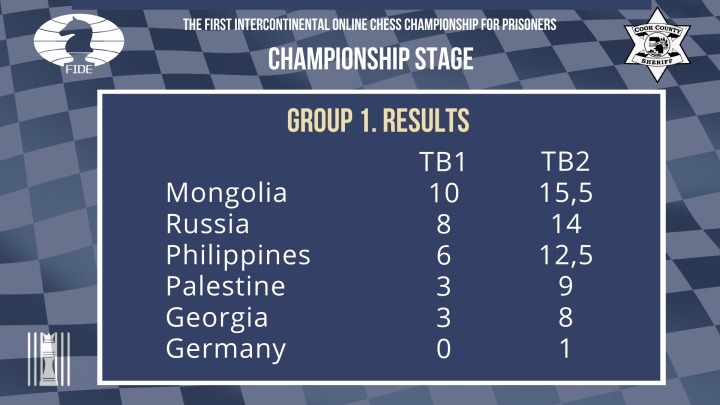 Zimbabwe came out on top in Group 2, beating all its opponents — the USA, England, Croatia, North Macedonia and Argentina. North Macedonia finished second after splitting the points with the USA 2-2, defeating England 3½-½, Croatia 4-0, Argentina 3-1 and losing to Zimbabwe 1-3.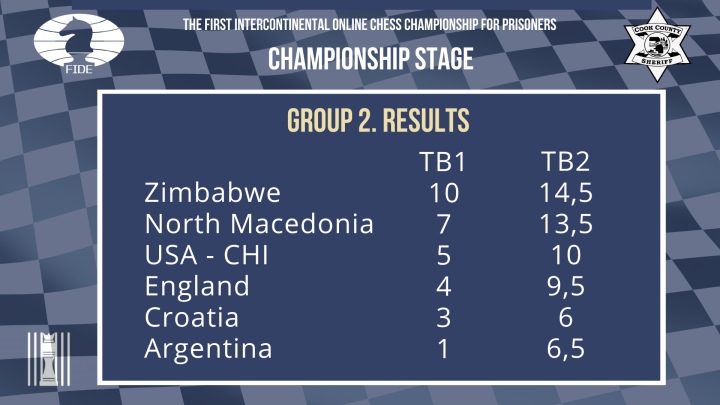 Georgia wins women's section
For the first time in the history of international chess tournaments held in prisons, winners were determined in the women's section too. Here, the Georgian team won all three matches and finished in clear first place. Russia finished second with two victories, Trinidad and Tobago scored 4 team points, and Ukraine netted just 1 point.
The three-day tournament aimed to popularize chess as an efficient tool for reintegrating incarcerated people ran from October 13-15, 2021. The event attracted 41 teams from 30 countries representing all continents, providing an opportunity for inmates to play with their peers across the globe.
Links