NEW DELHI: The course of evolution dooms, and in case you survive, it takes you to heights of achievement. Take
Thar
for instance. Built on
Mahindra
pedigree, the first generation Thar was a potent off-roader yet crude and appealed to a very limited audience.
Mahindra went back to the drawing board, took feedback from customers and experts, and put its might into making the Thar what it is today. The pricing slots it into the C-segment of SUVs, where the likes of Kia Seltos and Hyundai Creta are not going to give it an inch. Our job in hand is to take you through the experience of driving a Thar, day in and day out, and tell you whether it can be the only car in your garage or not?
(FOLLOW)
Let us start with something that is known but again is important in making a buying decision. Thar is bigger, both in flesh and on paper. Length, width, wheelbase have all gone up, which means you and I are going to have some extra space inside to squeeze in.
I would leave it to you to decide about the looks. The new grille and squat stance may have a resemblance with Wrangler, but I don't see Mahindra at fault for this. The inspiration has evolved from the longstanding association between Jeep and Mahindra.
The tyres are chunkier than before, the hood is flat and upright. The asymmetric wheel arches continue to feature on the new Thar. Upfront is round halogens, circular fog lamps, and rectangular DRLs. Some bits of history, a dash of adventure, the new Thar, with its looks, tries to strike a balance to attract both millennials and purists alike.
Unless you are seeking mammoth wheels or snorkels spiking upwards, Mahindra has done a decent job to offer ruggedness. The lower-specced AX gets 16-inch wheels, a roll cage, a side-facing seat and a soft-top as an option. Lifestyle or LX, our test car sits on 18-inch alloys, features premium upholstery, roof-mounted speakers and a 7-inch touchscreen.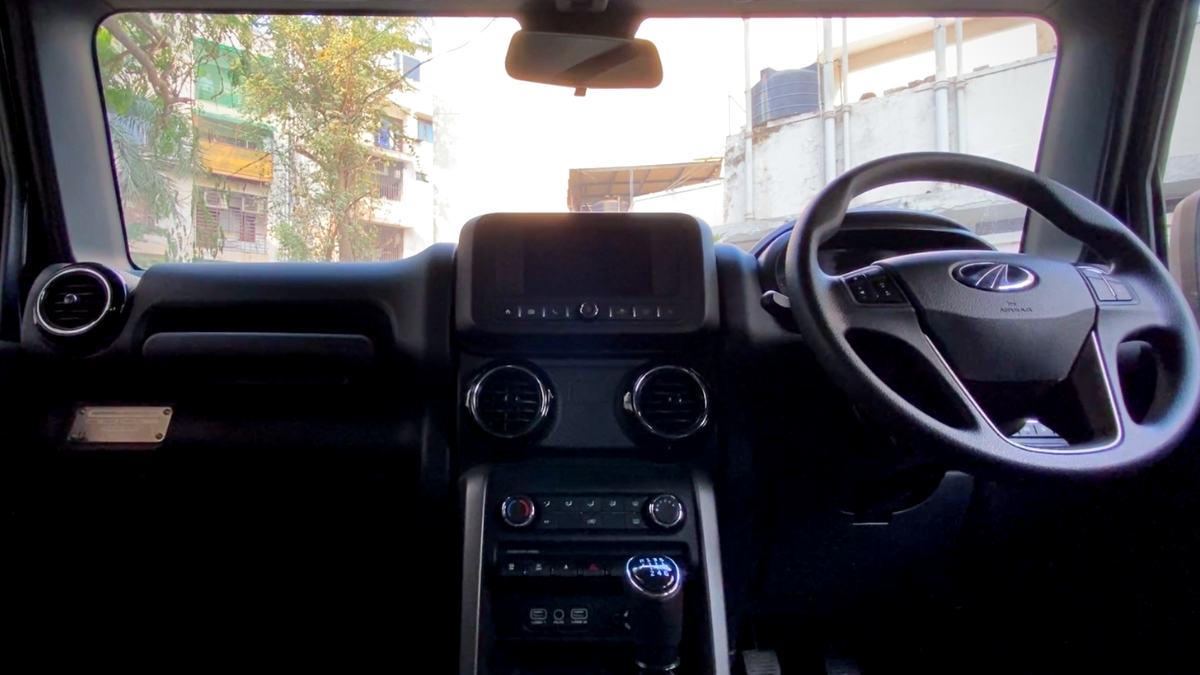 Also for LX trim, you have to settle for a hardtop or a convertible. Inside the cabin, the first thing you would notice is a theme makeover. It feels ergonomically better. The gear lever is moved ahead for a better reach. New age connected-tech may put Thar in a spot of bother. The unit on Thar is decent to use, allows Apple CarPlay and Android Auto connection. The minimalistic interior is completely washable. The hard plastics used on top of dash, however, leave you wanting for more.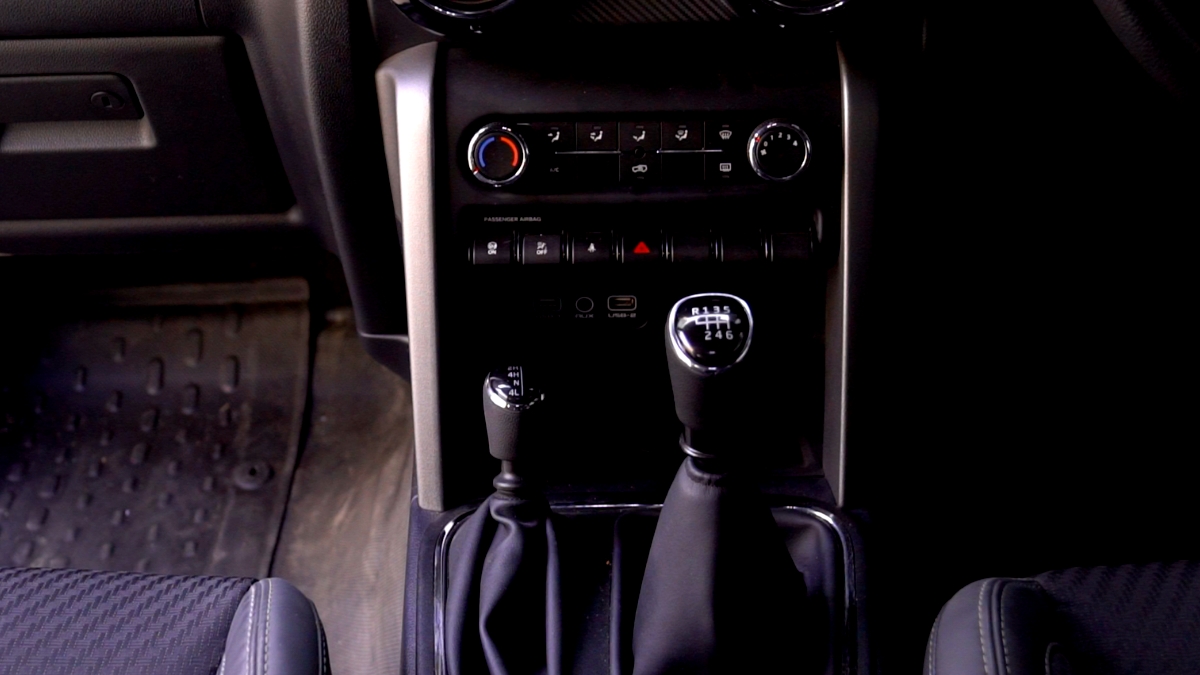 A central locking switch should have been provided in the front console. Circular AC vents are new additions. The storage space, whether it is the front glovebox or cup holders in the console, is too tiny for usage. The windows are large and ensure generously light and air influx yet the quality of glasses used may spoil your mood a little.
Thar meets the modern standard of necessities, featuring dual USB ports, and smartphone connectivity. Should Mahindra have offered features like auto-dimming inside mirrors, parking camera and rear AC vents? We strongly believe they should have.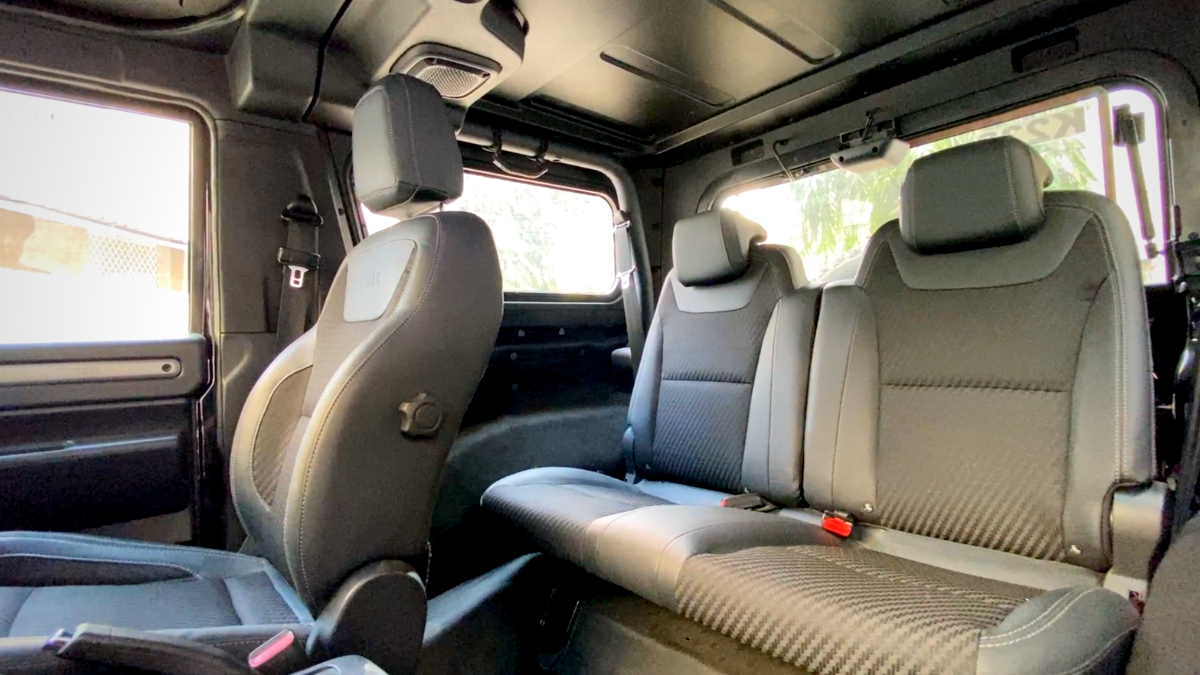 I guess the increase in dimension has all gone into providing a bit more room inside. The boot can be accessed by opening the tailgate. Space in there isn't anything to write home about. Very compact, the boot can barely take a couple of duffle bags.
The front seats are 6-way adjustable with adjustable headrests. The space inside is strictly for four people and the cushioning is slightly on the firmer side. To hop on to the second row, the front seat needs to be collapsed. Climb on to the side step and sling your body into the second row. That is an activity to get used to especially with the three-door set up. The rear seats are slightly upright and may seem cramped for two healthy grown-ups. The large glass work, however, allows good visibilty.
Lifestyle or adventure, petrol or diesel, manual or automatic, Mahindra seems to have cracked the deal to cater to a larger audience. 130 PS, 2-litre, mHawk turbo-diesel and 150 PS, 2.2-litre, mStallion turbo-petrol, those two come as an option at the heart of the thing.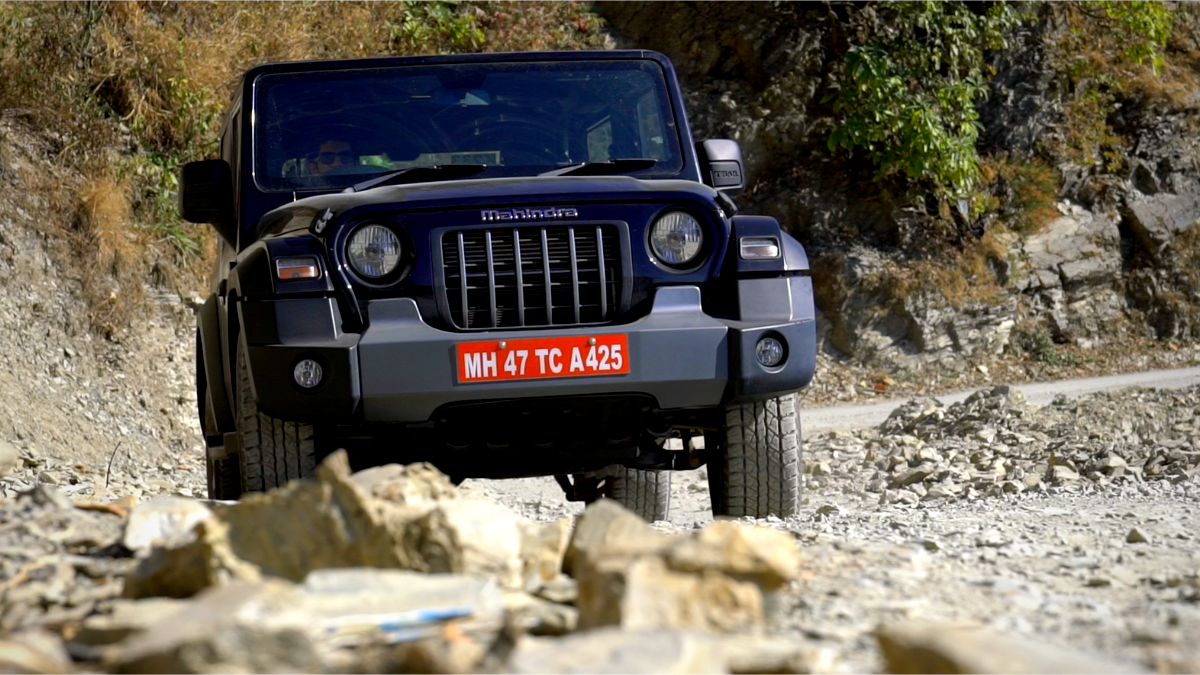 Petrol is a debut so is the 6-speed automatic. We drove the petrol during the first drive, and it was a thoroughly satisfying one. The 2.5L diesel is a past. Thar houses more powerful mHawk. Torque is available at as low as 1,000 rpm and you stay connected to almost 4,000 rpm. But there is a visible protest beyond 3,000 rpm as the engine becomes annoyingly noisy. That's where I felt the cabin insulation should have been better. On the other hand, if you opting for a soft-top Thar, the wind noise will act as a retarding force as much as the brakes. Not in the literal sense though. The progressive brakes have a decent bite, however, the rear wheels tend to lock in case of hard application.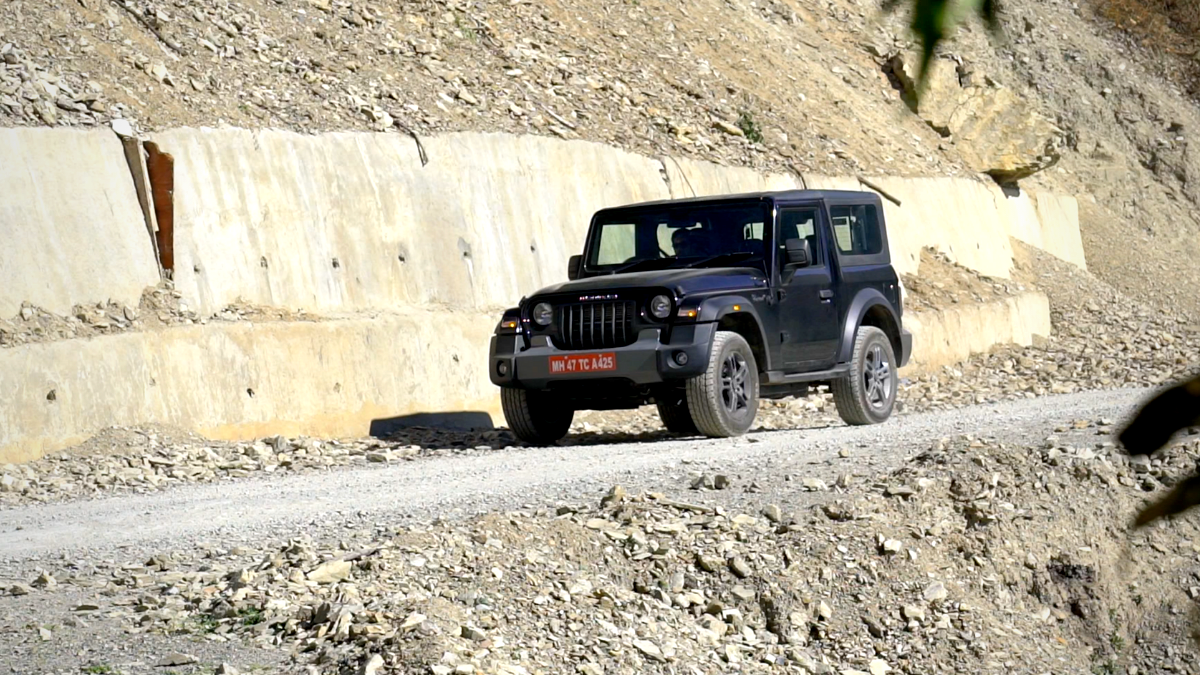 The hard-top we had for review remains largely calm inside at triple digits and cruising on the highway at 120 kmph is effortless. The manual shifts, much like other Mahindra cars, is on the heavier side and takes a bit of getting used to. The clutch pedal has a spring effort and crawling in bumper to bumper traffic for long can exhaust you.
Thar's bouncy ride quality is always a point of discussion. There is another way of looking at it. The wobbly feel is what adventurists seek and that's what ladder-on-frame vehicles are like. That said, the new Thar is miles ahead in terms of comfort and the way it handles curves over the outgoing Thar. The body roll is pronounced around the corner, thanks to the high seating position. Don't compare Thar with the plush ride of other C-SUVs, because what this hulk can do is beyond the imagination of others.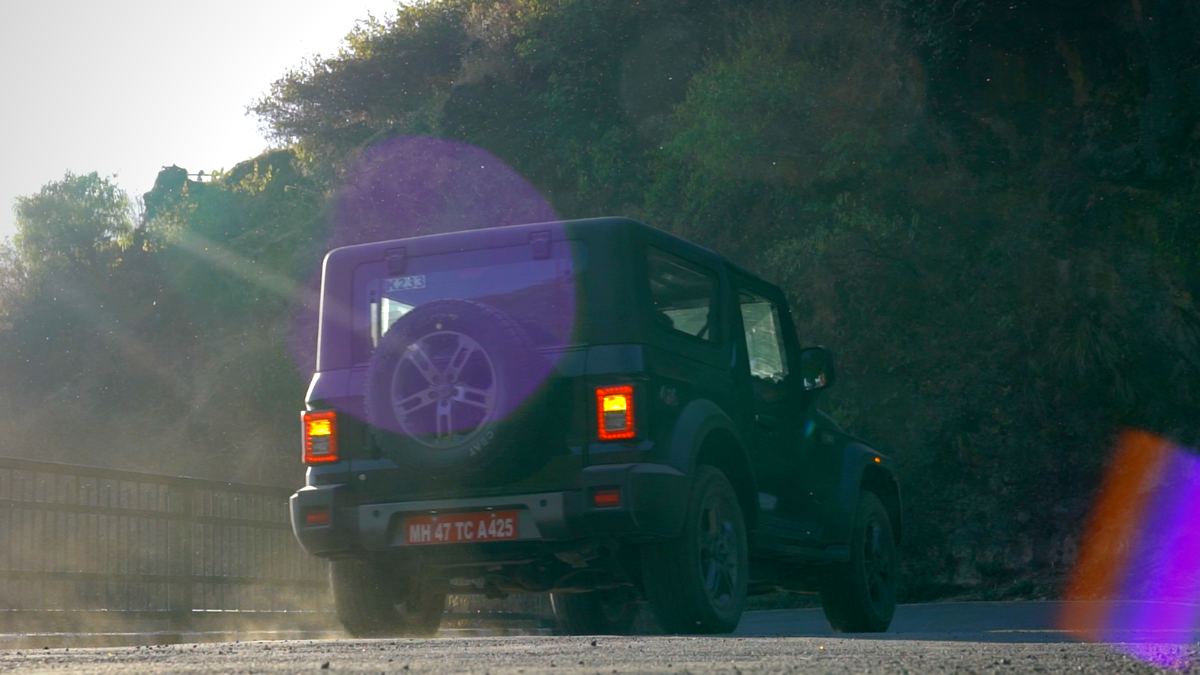 The latest crash test rating is a cherry on the cake. The made-in-India off-roader secured 4 stars at the GNAP tests. Interested in the new Thar? Book yours quickly. It seems Mahindra didn't expect such a huge demand, waiting is over 9 months now. In terms of safety, sensors are used instead of rear camera. Thar gets tyre pressure monitoring system, electronic stability programme, ABS with EBD and a roll cage.
The diesel mill is frugal enough to deliver 14 kmpl. A 45-litre tank takes you over 600 kilometres regularly.
It's always a great sight to see Thar cutting through bad roads, sailing over knee-deep water, munching ruts on a muddy trail and venturing into the wild confidently. Thar would disappoint even a single bit, largely due to the 4X4 transfer case, 226 mm of ground clearance, mechanical differential locks, Mahindra' 3rd-gen platform and more. Let's keep the off-road aspect for the next edition.
Purpose-built as ever, Mahindra Thar has become an all-rounder, shrugging off-the looks of a crude 4X4. It surely does fit a family of four, and Thar retains the prowess of chart unexplored terrain quite effortlessly like no one else. At Rs 10 lakh to 13.80 lakh (ex-showroom, Delhi), it still has flaws and faults. But never like before, this SUV surely demands your attention, growing into a more wholesome, lifestyle car.