DNA Special: States' cunning move to blame Centre for 'zero deaths due to oxygen' statement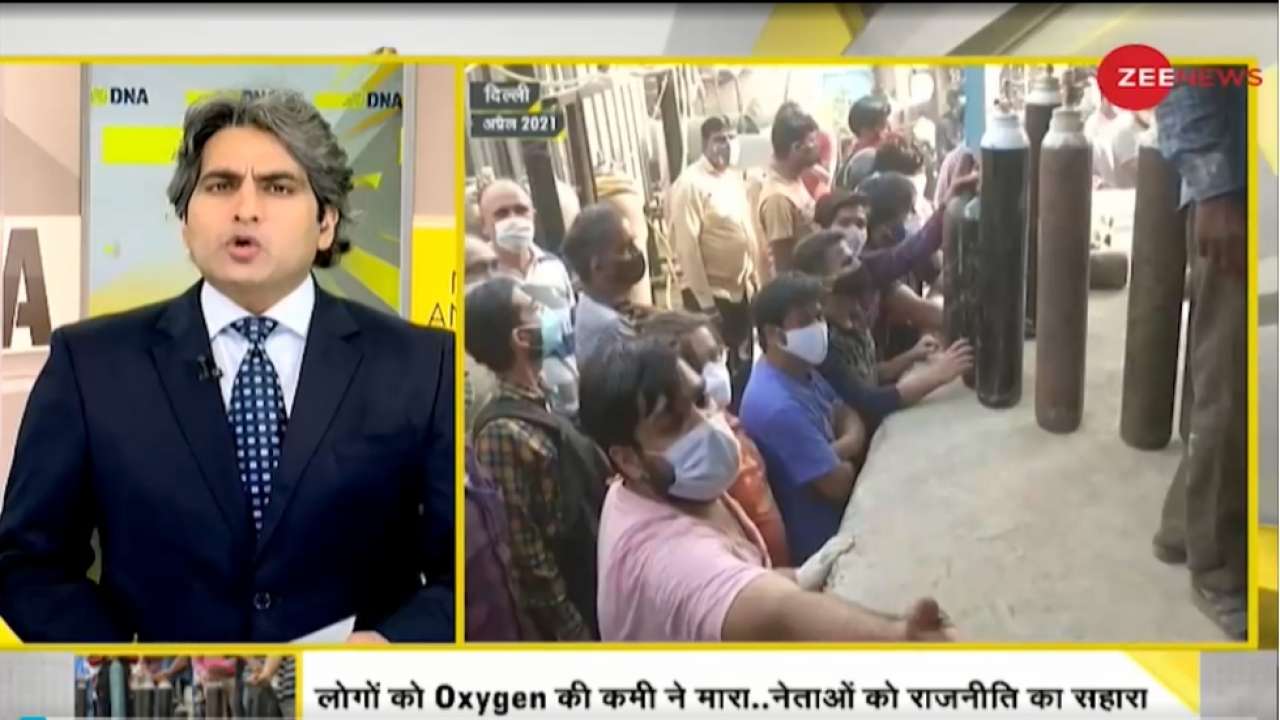 The Central Government has informed the Parliament that not a single Covid patient has died in this country due to lack of oxygen. The whole country was stunned to hear this statement.
Before going further, we would like to tell you that this information is half-true. Today, all the opposition leaders and intellectuals attacked the central government and alleged that this statement is a lie. That's why today we will reveal this half-truth in front of you and tell how the state governments, who were indignant about oxygen at that time, took a U-turn later. And the same state governments are now saying that no one died due to lack of oxygen.
On July 20, a question on this was asked to the Central Government in the Rajya Sabha. The question was that how many people died due to lack of oxygen in the second wave of Covid, on which the central government said that because health is a state subject, the data of deaths has to be given by the states and union territories and so far, no state or union territory has given information on patients dying due to lack of oxygen. The answer given by the Central government was very simple that till date, the State governments have not told that anyone has died due to lack of oxygen.
But despite this, politics started in our country and the opposition leaders started saying that the central government is lying to the country. Whereas the truth is that the role of the Central Government in this matter is only that it collects the data of deaths reported from the states and union territories and this data is released every day by the Ministry of Health.
There are total 28 states and 8 union territories in India. The deaths due to corona in all these states are prepared and sent to the central government. And in these reports, it is written how many people died due to corona and what were the reasons for these deaths. Now the point is that these states did report deaths due to corona, but no government said that people have died due to lack of oxygen in their state.
During the second wave of Corona, there was a severe shortage of oxygen in many states and there were long lines of patients outside the hospitals for oxygen. According to a report, between April 15 and May 10, the oxygen crisis in the country was at its peak and at that time there were reports from many hospitals that there was only a few hours or a few minutes of oxygen left.
DataMeet, a data analyst company in India, claims that a total of 619 deaths in India were due to lack of oxygen. Out of which 59 deaths in Delhi, 30 deaths in Madhya Pradesh, 46 in Uttar Pradesh, 52 in Andhra Pradesh, 22 in Haryana, 4 in Jammu and Kashmir, 6 in Punjab, 37 in Tamil Nadu, 16 in Gujarat and 59 deaths in Maharashtra. This information has been published by this company according to media reports. Although we have not confirmed this. But we can definitely tell you what these states have to say on this.
Maharashtra Health Minister Rajesh Tope says that not a single death occurred due to lack of oxygen in the state. And the Maharashtra government has also told the Aurangabad Bench of the Bombay High Court that not a single death took place there.
After Maharashtra, now let us tell you about Chhattisgarh. There is a Congress party government in Chhattisgarh and there health minister TS Singh Deo says that no one died due to lack of oxygen. Whereas on April 15, it was revealed in media reports that four corona patients in the state have died due to lack of oxygen. And then the state health department had also reacted to it, but now the Congress government of Chhattisgarh says that oxygen was in sufficient quantity there.
Like Delhi, Maharashtra and Chhattisgarh, the governments of Tamil Nadu, Madhya Pradesh and Bihar have also categorically denied that any patient died due to lack of oxygen there.
Think when all these state governments do not accept the fact that no one died due to lack of oxygen, then from where will the central government give the number of such people.
Now let us tell you whether these state governments could have recorded the deaths due to lack of oxygen? Are there any rules regarding this?
From registering the cases of Covid in India to storing them, this work is done in three phases.
First hospitals collect data on deaths from Covid. Then this data is sent to the state governments. And finally, the central government acts like a store room to keep these data in one place.
There are guidelines of the Indian Council of Medical Research for how Coronavirus cases can be recorded. It is clearly written in these that if the state governments want, they could prepare the data of people who died due to lack of oxygen and could inform the central government about it. According to ICMR, the causes of death can be divided into three parts.
The first reason is that by which the patient lost his life. The second reason is that due to which the patient's condition deteriorated. And the third reason is not related to disease but it has also played a role in death. That is, in the third column, the reason for the lack of oxygen could have been written and this work was to be done by the state governments and not the central government.
Sharing this news, Rahul Gandhi wrote on Twitter that there was no shortage of oxygen only. There was a huge lack of sensitivity and truth – it was there then, it is still there today. One big thing here is that the opposition leaders, intellectuals and members of the tukde tukde gang become Twitter trolls but they do not understand the issues of the common people nor do they have anything to do with them.