Designed to perfection – meet the future of television, Samsung NEO QLED TVs – Times of India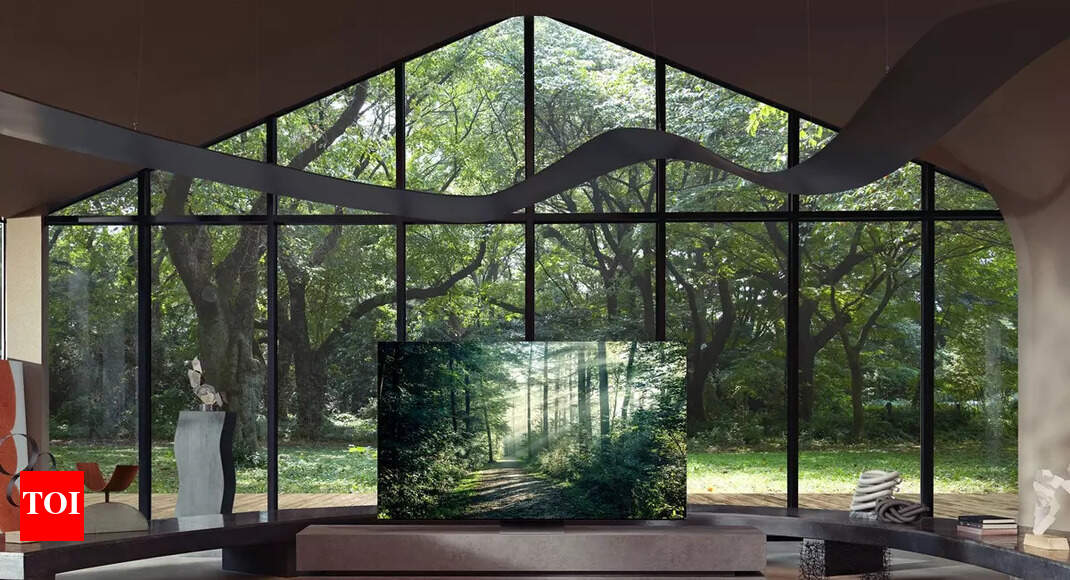 Samsung outdid itself when it announced the new range of QLED televisions called the
NEO QLED TVs
. Being a leader in display technology, Samsung spearheads the segment with its innovation in design, crisp display, smart features and a lot more, making it a market disruptor. And now with 'NEO' QLED TVs, Samsung has set the bar even higher. At present, if you want the best premium television experience, then Samsung's latest innovation is one of the finest you can get right now.
Greatness never ends, it evolves, and that stands true for Samsung NEO QLED TVs. For starters, the new Samsung TVs have a one-of-a-kind Infinity-One design that gives the TVs a completely bezel-less look. The sleek and regal look of the Samsung NEO QLED TV can blend in with your luxe living space effortlessly.
Samsung is indeed a leader in display tech, and for the NEO QLED TVs, it did something even more special. They have added Quantum Mini LEDs to this new range. These are 40 times smaller & give the brightest colour output & most delicate details that covers 100% colour volume. With NEO QLED TVs you can enjoy a crisp 4K or 8K resolution. To give you a theatre-like experience at home, Samsung has added flagship features like Quantum HDR up to 64X and Neo Quantum processor. As for the sound profile, the NEO QLED TVs come with Q-Symphony & OTS Pro, which are unlike anything yet seen in the market.
Congratulations!
You have successfully cast your vote
Let us delve deeper into the trappings that make the
Samsung NEO QLED TVs one of the best offerings right now!
Firstly, the contemporary new design!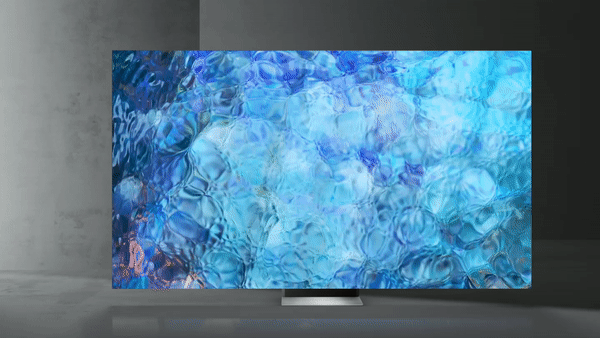 If minimalism is your style, then the NEO QLED TVs are a must-have. Even before you turn on the TV, you would be in awe of the fine craftsmanship by Samsung engineers. The Infinity One design is all about the Infinity Screen that runs from corner to corner, allowing the TV to have little to no bezel. With black edges all but erased, the Infinity screen offers new levels of immersive viewing and can completely modernise your space.
A modern TV with modern aesthetics: A premium offering like the NEO QLED TV is all about maintaining a delicate balance between fine design & functionality. And the latest Samsung offering has a smart solution for all the necessary ports a TV of its calibre needs. To get the ultra-minimalist look, Samsung has designed the One Connect solution. Now, what is that? The One Connect is an aesthetically pleasing hub that manages to reduce clutter caused by wires & cables. One Connect is a slimmed-down hub for all the ports a TV needs.
Despite having ports placed on the TV itself, the One Connect solution provides a small portable hub that lives detached from the TV. This way, the NEO QLED TV can maintain a clean look, and all the ports are neatly placed in a user-friendly place. The One Connect solution can be completely tucked away on the back of the TV or placed neatly in your entertainment unit.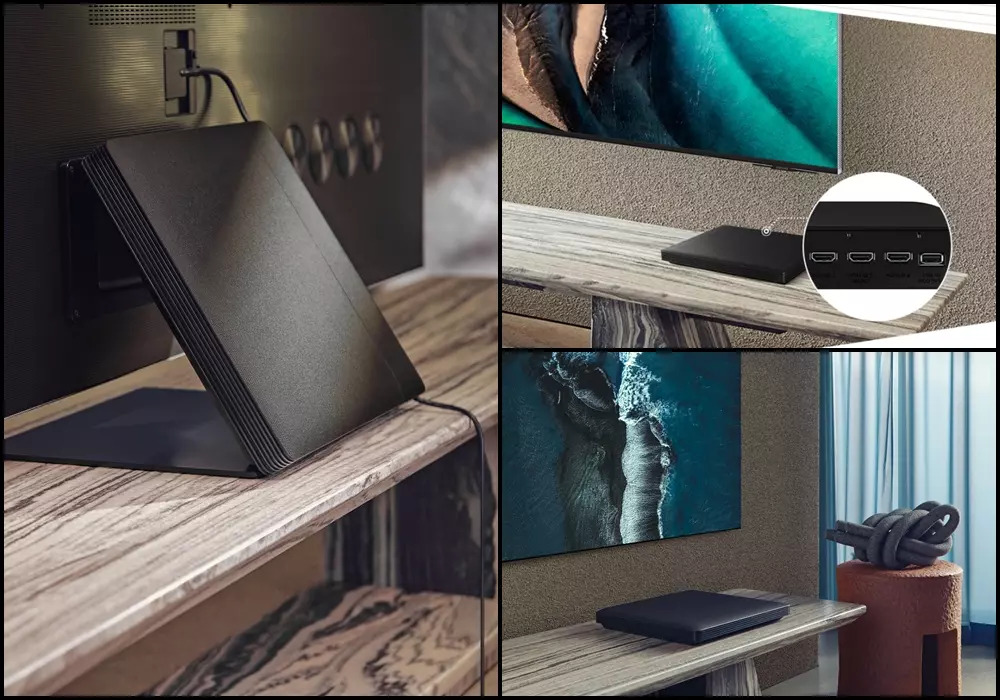 Slim-Fit Wall Mount: The new NEO QLED TVs are the slimmest ones Samsung has ever made. And once you experience this in the flesh, you'll have to agree with us! The Infinity One Design makes the TV bezel-less from the front and 'bulk-less' from the sides.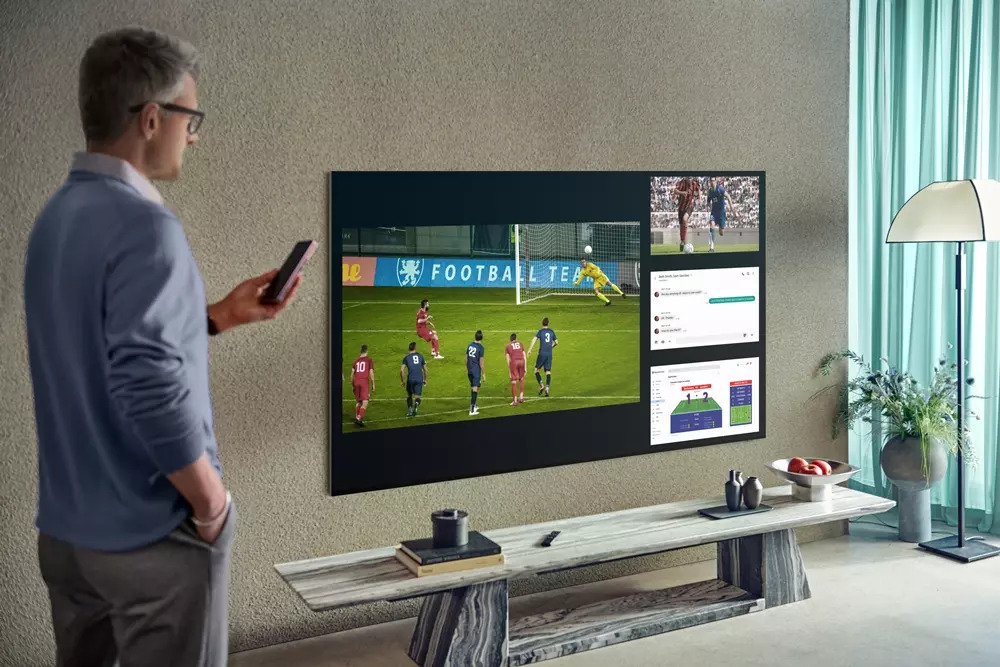 Since all the ports are neatly tucked away from the TV into a One Connect solution, the NEO QLED TV can sit plush against your wall for a completely seamless look. A single, nearly invisible cable connects your external devices to the TV, keeping the space around it beautifully clean and wire-free.


Secondly, the impressive display quality!

Samsung has simply taken the game to a whole new level as the NEO QLED TVs include Quantum Matrix Technology Pro. But why is it a big deal? Not only will this tech get you the brightest pictures, but the Quantum Matrix Technology Pro also delivers a massive reduction in picture blooming which helps in enhancing picture brightness and deeper black tones.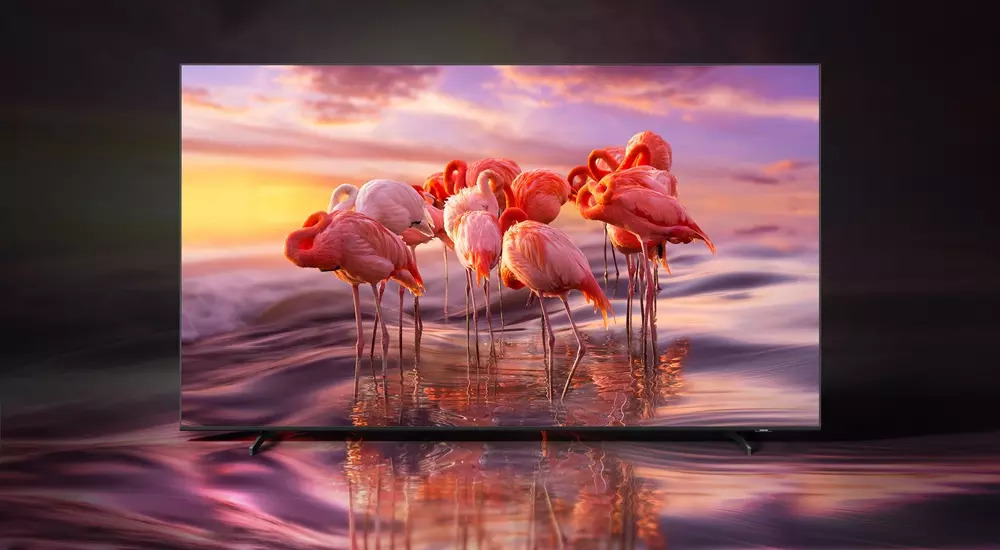 The content you watch can be upscaled to 8K & 4K depending on the model, thanks to the cutting edge Neo Quantum Processor AI upscaling. Every scene is restored, pixel by pixel, using up to 16 neural networks of the advanced AI. The processor fine-tunes brightness and enhances contrast for a mesmerising viewing experience regardless of the source resolution. The NEO QLED TVs use 100% Color Volume with Quantum Dot, which means you see 100% Color Volume in everything you watch, even in the brightest of scenes.
In fact, the display quality of the Samsung NEO QLED is good for your eyes as it has been
certified by VDE, Germany.
Finally, the sound innovation, redefined!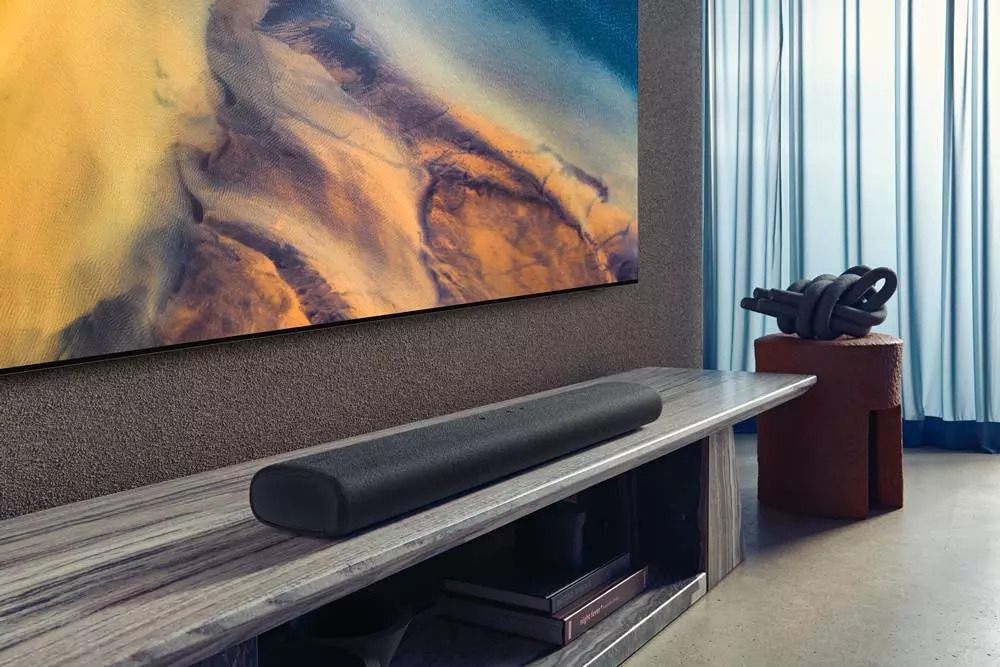 The ultimate viewing experience is incomplete if the audio doesn't live up to the expectation. So, how does the Samsung NEO QLED fare on this front? In one word – Incredibly! The NEO QLED TVs have OTS Pro or Object Tracking Sound Pro. This means that the TV has a unique 3D surround sound that follows the on-screen action.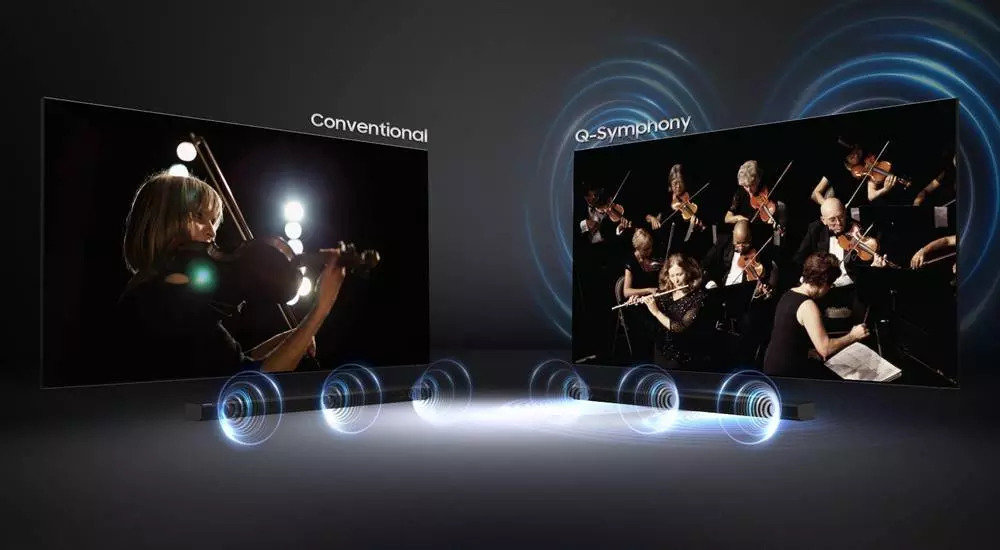 This is possible because the TV has built-in speakers that fire sound from all directions. The sound is so authentic; that you'll feel every moment as if you are physically there. But Samsung didn't stop there – it went one step further with Q-Symphony. The audio from Samsung Neo QLED comes together in harmony with your Samsung soundbar to create Q-Symphony – a perfectly orchestrated surround sound experience. This technology uses the speakers on the television and soundbar to create a holistic experience.
Moreover, you can enjoy perfect sound regardless of where and how you place your TV. Samsung uses SpaceFit sound technology that analyzes the room environment and then auto-calibrates the TV's sound to optimal levels. Simply turn the TV on, and let SpaceFit Sound do the rest. Now that's impressive!
Do more amazing things with the NEO QLED TVs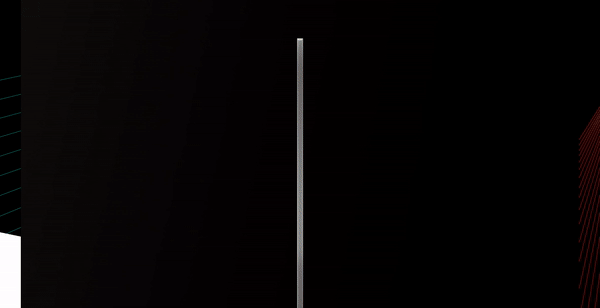 The NEO QLED TVs from Samsung support Multi-voice assist such as Alexa, Google & Bixby. With this, you can ask anything on your TV and it will answer all your questions!
The SolarCell One Remote gives you a premium experience with its smooth exteriors & solid built. Additionally, the remote control is eco-friendly, as it is built from recycled plastic.
The NEW QLED TV has immersive gaming features that'll improve your overall gaming experiences such as Super Ultrawide GameView, Motion Xcelarator Turbo+, Freesync Premium Pro and Auto Low Latency Mode.
The Samsung NEO QLED 8K TVs are available in three sizes: 65", 75", and 85" and 4K is available in 55", 65", 75", 85" & 98". The price of 8K starts at Rs. 364,990 & 4K at Rs. 160,990.
Offers & deals to get you excited

Given the premium quality of the product, any offer is hard to come by. But Samsung knows how to impress interested buyers. So you can get a free Soundbar worth up to Rs. 104900, up to 20% cashback from select bank credit cards, EMIs starting at Rs. 1990, 3 Year Complete Warranty and 10 Year No Screen Burn-In warranty on select Neo QLED TVs. In fact, it would be wise to consider checking a host of other offers available on Big TV festival with exciting offers including a free Soundbar and cashback offers.
To know more about the Samsung NEO QLED TVs,
click here.
Disclaimer: This article has been produced on behalf of Samsung by Times Internet's Spotlight Team.