Candidates Round 14: Ding, MVL and Alekseenko finish on a high note
Vachier-Lagrave clinches second place
The longest chess tournament in history has come to an end, with three out of four games finishing decisively. Much like in the 2013 edition, when Vishy Anand secured tournament victory with a round to spare, we already knew who had won this year's Candidates a day before the end of the event, as Ian Nepomniachtchi secured the right to face Magnus Carlsen in the next World Championship match on Monday.
Both Nepomniachtchi and Anish Giri, who became the main contender for first place in the second half of the event, lost their last-round games. The two elite players confessed that they felt unmotivated after Monday's round — either consciously or unconsciously. While Nepo was defeated by Ding Liren, Giri lost his game against Kirill Alekseenko.
The player who had entered the second half sharing the lead, Maxime Vachier-Lagrave, also scored a full point, beating Wang Hao to climb to sole second place. The Frenchman obtained two victories in the last three games after having suffered two tough losses against Fabiano Caruana and Alexander Grischuk in the second half of the tournament. MVL told FIDE press officer Anastasiya Karlovich:
I'll also take the positives. I hope to be able to capitalize on the work I did prior to the event and the confidence at least I partly restored with the last few games. There will be a lot of time to reflect on what worked and what didn't work with my whole team.
In the same interview, Wang, who lost his last three games in the tournament, announced that he will retire from professional chess. The Chinese, currently ranked 17th in the live ratings list, explained that he has been having stress-related health issues, and mentioned that he even considered quitting the event after his game against Grischuk. Wang plans to continue coaching and playing friendly matches, while he will also pursue a career as an investor.
In the end, Ding's run of good form — China's number 1 won his last three games — combined with Alekseenko and Wang's poor second half led to the two pre-tournament underdogs to finish as the only participants with minus scores.
---
Final standings
---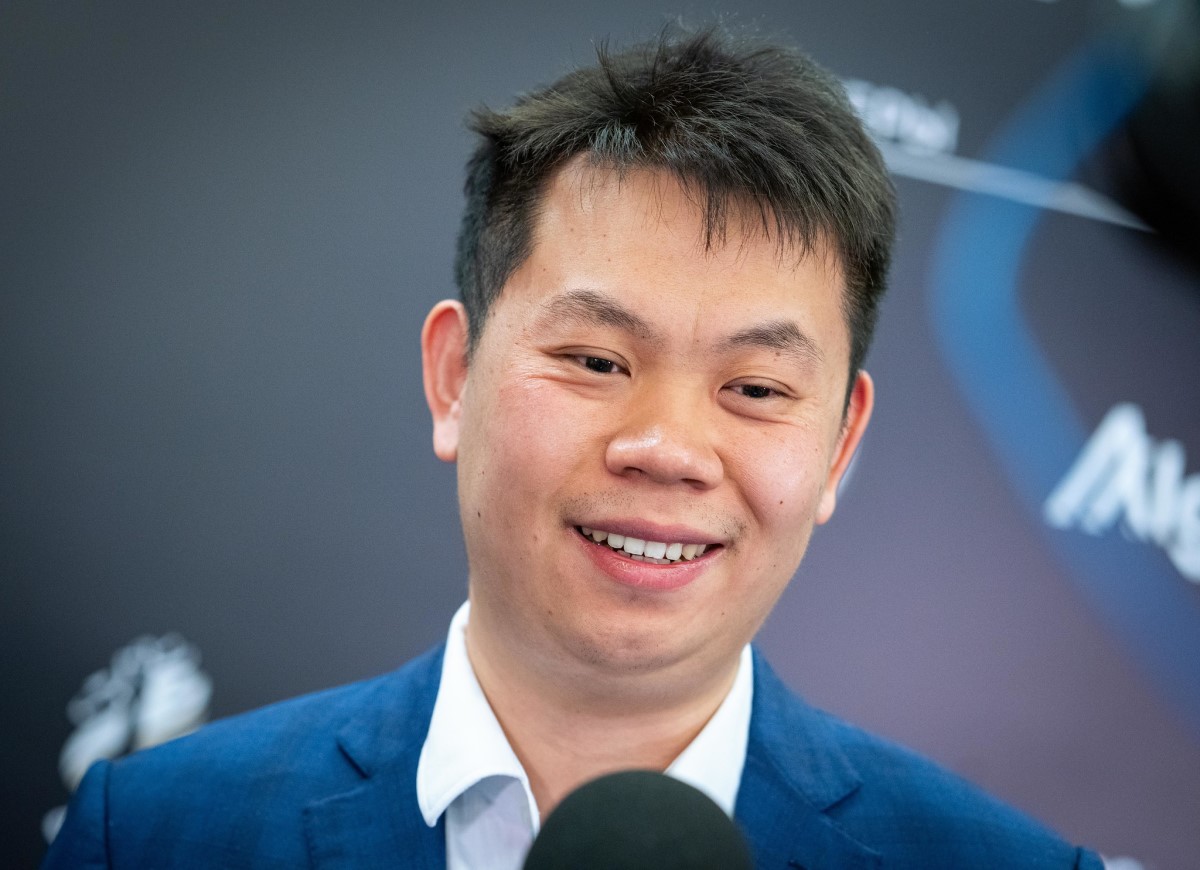 Wang Hao | Photo: Lennart Ootes
Vachier-Lagrave 1 – 0 Wang
Out of a Berlin Defence, both players agreed that White obtained a clear and sustained advantage once he managed to place his knight on a strong outpost on d6. In a tough endgame with rooks and knights, Wang lost the thread on move 26.
Wang erred with 26…Ng7 and played two more incorrect knight moves before resigning the game. Grandmaster Karsten Müller explains why even a small initiative is incredibly relevant in these setups.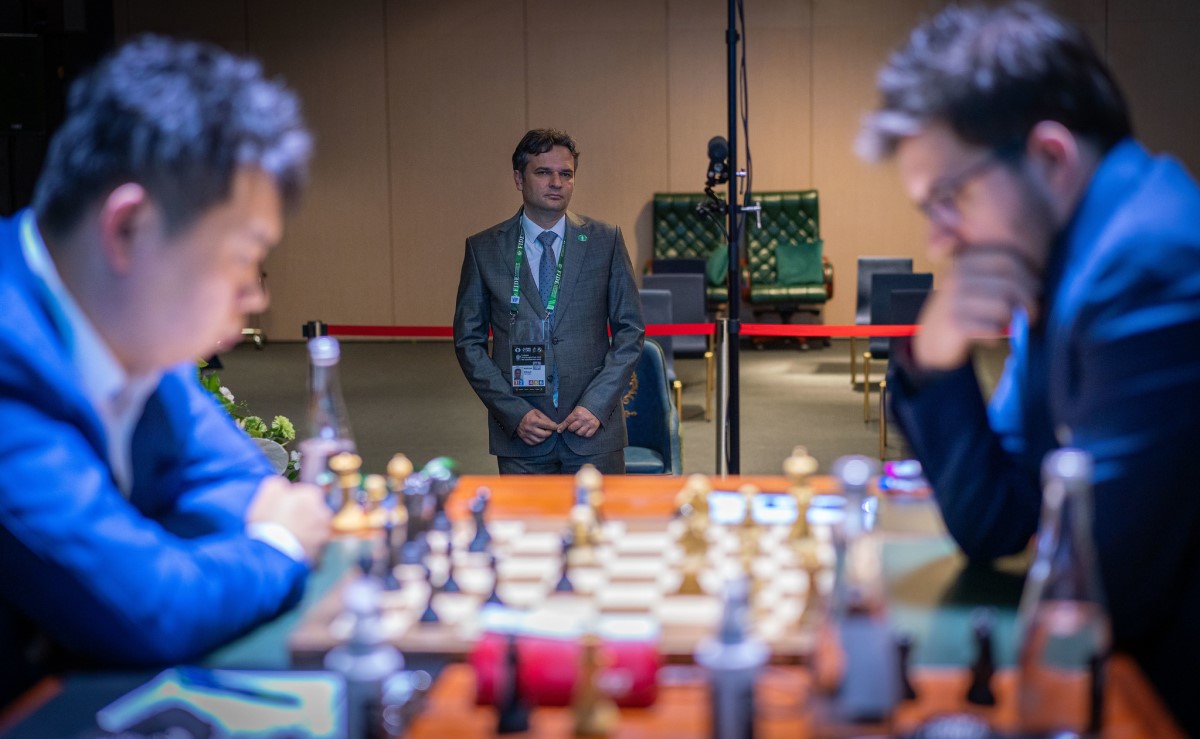 The longest chess tournament in history has come to an end | Photo: Lennart Ootes
Ding 1 – 0 Nepomniachtchi
In the post-game press conference, Nepo explained that sometimes having too much knowledge can play against you. In a sharp position, the winner of the event played the wrong move as he got overly susceptible to potential lines following the most logical continuations.
Nepo explained why playing the natural 14…cxd4 was correct in this position, but he also showed the kind of lines that led to his decision to play the mistaken 14…Nxd3. As GM Müller notes in his annotations below, in the ensuing position, White's two minor pieces are stronger than Black's rook. The World Championship challenger resigned after 35 moves.
Ding Liren | Photo: Lennart Ootes
Giri 0 – 1 Alekseenko
Playing the same Catalan that badly backfired four rounds ago against Nepo, Alekseenko got a better position out of the opening on Tuesday. Both contenders agreed that White seemed to have enough to fight for a draw, but Giri's 37th move gave his opponent a plan to look for a win in a tricky position with queens and knights.
After 37.g4, Alekseenko started thinking about transferring his knight to f4 via e5-g6. The game continued 37…Qc7 38.Nd2 Ne5 39.Qe3 h6 and, instead of defending passively, Giri lashed out with 40.f4
Black captured the pawn with 40…Nxg4 and went on to demonstrate that White's defensive plan does not work. Our in-house endgame specialist GM Müller provided instructive analysis of the last phase of the game.
Kirill Alekseenko | Photo: Lennart Ootes
Caruana ½ – ½ Grischuk
The only draw of the day saw Grischuk, playing black, getting a good position out of the opening. The Russian, who was following the other games, noted that the potential results on other boards meant he could even dream with sharing second place if he won his game, which prompted him to look for winning chances in a rather balanced position. In the end, it was Caruana who got a slight edge after the time control, since Grischuk's attempts were not well-founded.
The American star could not get enough traction in the endgame and the last encounter of the day finished peacefully after 65 moves. Caruana confessed:
I don't think it matters if you score +3 or -3 if you don't win — it's really what we're all here for.
Both players agreed that Nepomniachtchi will be a tough opponent for Carlsen in the World Championship match scheduled to take place in Dubai at the end of the year.
Fabiano Caruana v Alexander Grischuk | Photo: Lennart Ootes
All games
Links