Bigg Boss 14: Rakhi Sawant pulls the string of Abhinav Shukla's shorts; wife Rubina Dilaik warns to not cross her limits – Times of India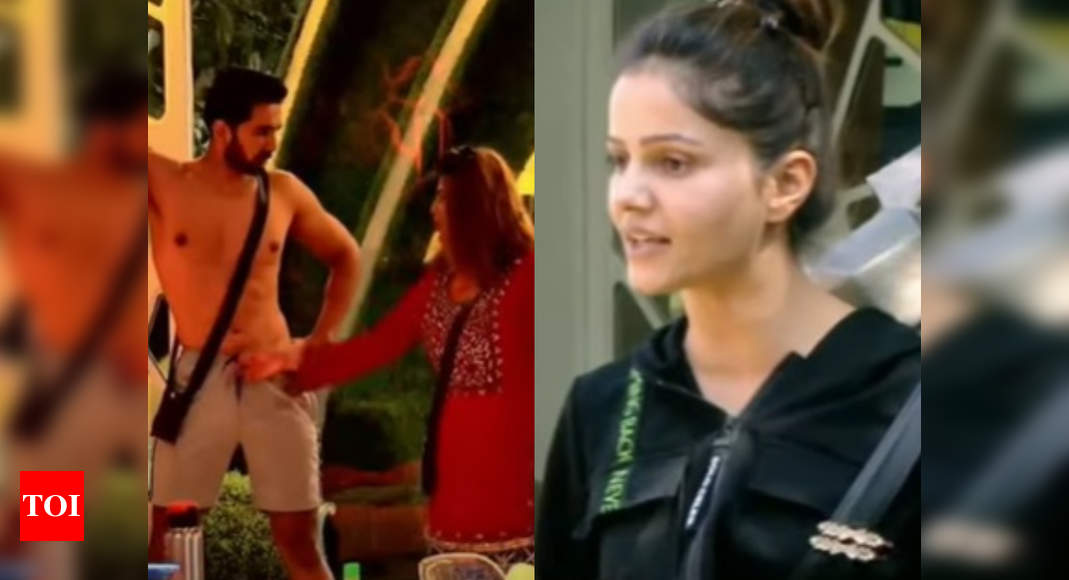 The level of
Rakhi Sawant
's craziness for Bigg Boss 14 co-contestant
Abhinav Shukla
is not dying anytime soon. The challenger is giving a tough time to the husband-wife duo through her antics. Initially, her healthy flirting with Abhinav would entertain everyone. However, Rakhi seems to be 'crossing her limits', and
Rubina Dilaik
is extremely furious over her.
In the upcoming episode, the audience will get to see Rakhi invading Abhinav Shukla's personal space by pulling the strings of his shorts, which leaves him shocked. Rubina Dilaik, who was standing there, saw and this was flabbergasted at Rakhi. She warned, "Rakhi, apni haddein cross mat kijiye" (Rakhi, don't cross your limits).
In the garden area, Abhinav Shukla is lying down on the sofa, Rakhi goes and sits beside him. She verbally irritates Abhinav, while the latter gets up and leaves. Rakhi goes and lies on the same sofa and says, "Sofa tumne ekdum garam kar diya" (You've completely warmed the sofa).

Rakhi then sings a song where she indicates a pigeon to give a love letter to her fourth lover (Abhinav). She further adds that the pigeon gets his shorts' string too. Then, she is seen pulling the actor's drawstring, an offended Abhinav holds his shorts in dismay, while Rakhi schools her to stay within her boundary line. Rubina says, "If you don't respect my husband, I will be the first one to face you."
An irked Rakhi says that he might be her husband at home, here he is a co-contestant. Rubina Dilaik, who is filled with anger, screams, "Inhein apni hadd nahin pata hai" (She doesn't know her limits). Rakhi Sawant says, "Tum kya bataoge meri hadd" (You'll show me my limits, now?). She further adds, "You cannot stop me baby. I am in love with Abhinav. The ones who are getting jealous, can burn in jealousy."
Rakhi Sawant challenges Rubina that she can do whatever she feels and she will continue teasing him. Rubina teaches Rakhi that there is a difference between teasing and unmannerliness.
Recently, Rakhi Sawant was also slammed by a section of netizens for destroying Abhinav Shukla's underwear and tearing it into pieces. The audience called it 'disgusting'.
Rakhi, Abhinav and Rubina shared a good rapport with each other until a caller revealed during the Weekend Ka Vaar episode that Rakhi badmouths Abhinav behind their back. Ever since, the couple has maintained distance with Rakhi.
Keep reading this space for the latest updates from Bigg Boss 14.