Biel, Round 2: Four draws, long games, lots of fight
Long games
In the first round of the classical part of the Grandmaster Tournament at the 54th Biel Chess Festival, Kirill Alekseenko and Nihal Sarin played the longest game of the round. Nihal Sarin tried desperately to defend an endgame with a pawn but after 91 moves he conceded defeat and resigned.
But in round 2 Noel Studer and Alan Pichot played an even longer game – they played for seven hours and 42 minutes before agreeing to a draw.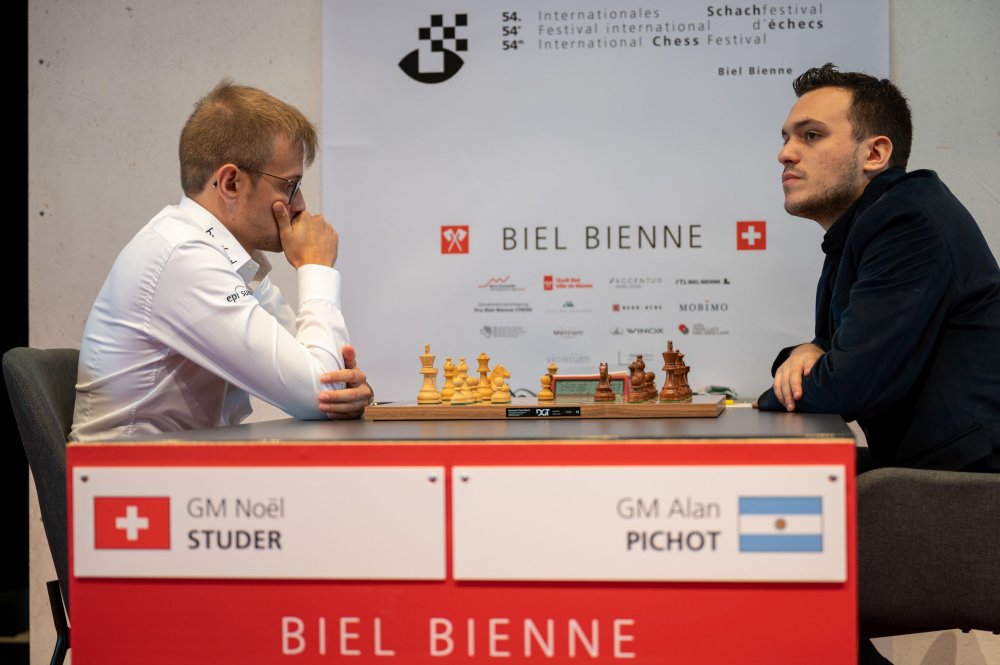 Studer, the local hero, tried to win a queen ending with two pawns against one but Pichot defended attentively and after 138 moves the game ended in a draw.
Vincent Keymer, born 2004 and Germany's youngest Grandmaster of all time, was up against World Championship Candidate Kirill Alekseenko, who seems to be very motivated in Biel. Keymer had White but ended up with a somewhat passive position after the opening, which he, however, was able to hold.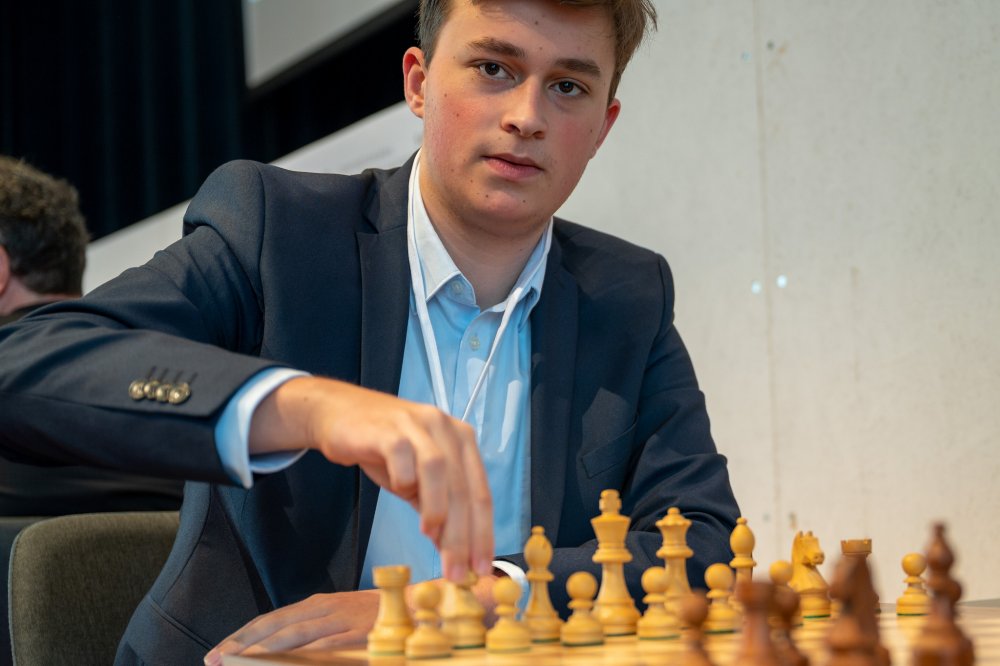 Vincent Keymer

Black has more space and an outpost on e4. However, White's position is rather solid.
26.Kh2 c4 27.Rd4 Nc5 Another try was 27…h4 28.gxh4 Qf6 White now best reacts with 29.f3. After (29.g3 Nxg3 30.fxg3 Qxd4) 29…Nc5 30.Rcd1 Nd3 31.Qd2 (31.R1xd3!? cxd3 32.Qxd3) 31…Rb6 32.b3 Rbe6 33.Bf2 Nxf2 34.Qxf2 chances are about equal.
28.Rcd1 Nd3 29.b3 Re4 30.Bc3 After 30.bxc4 Rxd4 31.exd4 dxc4 32.Bc3 Rf6 Black is better.
30…Rxd4 31.Bxd4 Qe4 32.bxc4 dxc4 33.Rb1 Kh7 34.Rb8 Rh6 35.Rb6 Rxb6 36.Bxb6
36… h4 36…Qf5!? is a winning attempt: 37.Kg1?! h4 38.Bd4 (Worse is 38.gxh4 c3 39.e4 Qb5 40.e5 (40.Bd4? Nc1 41.Qxb5 axb5 and Black wins.) 40…Qb1+ 41.Kh2 Nf4 42.Qxa6 Qe4 and White has to defend.) 38…hxg3 39.fxg3
37.gxh4 Qe5+ 38.Kg1 Qa1+ 39.Kh2 Qf6 40.Bd4 Qxh4+ 41.Kg1 f6 42.Qf3 Kg6 43.g4 Qg5 ½–½
Nihal Sarin and Boris Gelfand as did Gata Kamsky and Maxime Lagarde. But all received 1.5 points for this draw because in the Biel Grandmaster Triathlon 4 points are awarded for a win and 1.5 points for a draw.

Games
Live commentary of round 2
MTO
The Master Open also has an interesting field. To support women's chess, the festival has increased the prizes for female participants. This seems to be motivating and Vaishali Rameshbabu (Elo 2393), the elder sister of Praggnanandhaa Rameshbabu, drew against the Russian GM Maksim Chigaev (Elo 2630). Javiera Belen Gomez Barrera from Chile (Elo 2083) and Nikola Mayrhuber from Austria (Elo 2062) also caused a slight upset by drawing against their Grandmaster opponents GM Kantor Gergely (Elo 2527) and GM Andrei Shchekachev (Elo 2515).
After three rounds Salem Saleh and Surya Ganguly share the lead with 3.0/3 each.
Standings after three rounds
| | | | | | | |
| --- | --- | --- | --- | --- | --- | --- |
| 1 | | GM | Saleh Salem A.R. | 2682 | 3,0 | 4,0 |
| 2 | | GM | Ganguly Surya Shekhar | 2625 | 3,0 | 3,5 |
| 3 | | GM | Fedorchuk Sergey | 2598 | 2,5 | 4,5 |
| 4 | | GM | Yuffa Daniil | 2578 | 2,5 | 4,5 |
| 5 | | GM | Eljanov Pavel | 2671 | 2,5 | 4,5 |
| | | GM | Chithambaram Aravindh | 2641 | 2,5 | 4,5 |
| 7 | | GM | Banusz Tamas | 2631 | 2,5 | 4,5 |
| 8 | | IM | Raja Harshit | 2484 | 2,5 | 4,0 |
| 9 | | GM | Narayanan S.L. | 2624 | 2,5 | 4,0 |
| 10 | | GM | Murali Karthikeyan | 2606 | 2,5 | 4,0 |
| | | GM | Dragnev Valentin | 2569 | 2,5 | 4,0 |
| 12 | | GM | Wagner Dennis | 2572 | 2,5 | 3,5 |
| 13 | | GM | R Praggnanandhaa | 2608 | 2,5 | 3,5 |
| | | WGM | Vaishali R | 2393 | 2,5 | 3,5 |
| 15 | | GM | Puranik Abhimanyu | 2589 | 2,0 | 5,0 |
73 participants
Games
Links