Australia to acquire nuclear-powered submarines in historic security pact with US ​and UK
The pact will will also see Australia acquire its first fleet of nuclear-powered submarines.
The first priority of the "next generation" partnership will be to deliver a nuclear-powered submarine fleet, Prime Minister Scott Morrison confirmed in a joint virtual media conference with US President Joe Biden and UK Prime Minister Boris Johnson.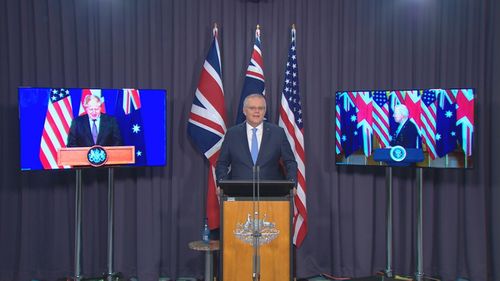 The fleet will be built in Adelaide, with the new AUKUS partnership to determine the way forward in the next 18 months.
While Australia's new submarine fleet will be nuclear powered, they will not be armed with nuclear weapons.
The move is expected to see Australia scrap a $90 billion deal with French submarine maker Naval Group struck in 2016.
Mr Morrison said Australia was not seeking to acquire nuclear weapons or develop a civil nuclear capability.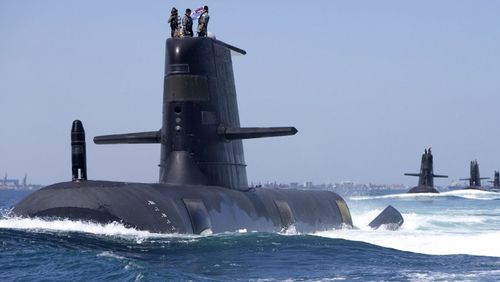 Mr Morrison said AUKUS was a response to an increasingly "complex" Indo-Pacific.
"This affects us all," he said.
"The future of the Indo-Pacific will impact all our futures.
"To meet these challenges, to help deliver the security and stability our region needs, we must now take our partnership to a new level."
Mr Morrison did not directly mention the Chinese government in his comments.
"This will be one of the most complex and technically demanding projects in the world," Mr Johnson said.
"Lasting for decades and requiring the most advanced technology."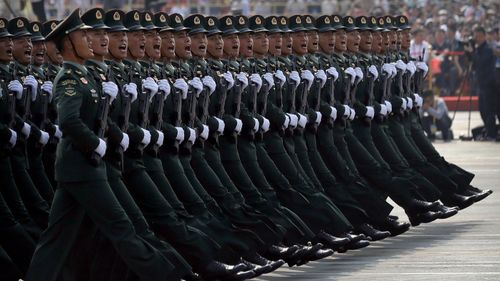 Mr Johnson said Australia was a "kindred nation" to the UK.
He said the decision to acquire nuclear submarines, which only a handful of countries possessed, was a "momentous decision".
All three leaders hailed the strength of the Australia-US-UK alliance.
Mr Morrison said the three nations saw the world through a "similar lens"
"We have always believed in a world that favours freedom, that respects human dignity, the rule of law, the independence of sovereign states and the peaceful fellowship of nations," he said.
"And while we've always looked to each other to do what we believe is right, we have never left each other."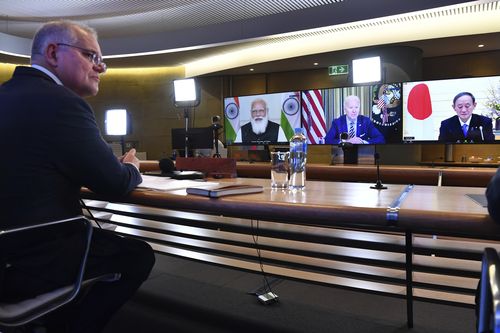 He labelled Mr Johnson and Mr Biden "great friends of freedom".
Mr Johnson said AUKUS was a "new chapter" of the countries' existing friendship.
"The UK, Australia and the US will be joined even more closely together, reflecting the measure of trust between us, the depths of our friendship and the enduring strength of our shared values of freedom and democracy," he said.
"Australia is one of our oldest friends, a kindred nation and a fellow democracy and a natural partner in this enterprise."
Mr Biden said the three nations had fought together for "more than a century".
"This is about investing in our greatest source of strength, our alliances, and updating them and to better meet the threats of today and tomorrow," he said.
"It's about connecting America's existing allies and partners in new ways and amplifying our ability to collaborate, recognising there is no reasonable divide separating the interests of our Atlantic and Pacific partners."
FULL STATEMENT FROM JOINT LEADERS
As leaders of Australia, the United Kingdom, and the United States, guided by our enduring ideals and shared commitment to the international rules-based order, we resolve to deepen diplomatic, security, and defense cooperation in the Indo-Pacific region, including by working with partners, to meet the challenges of the twenty-first century. As part of this effort, we are announcing the creation of an enhanced trilateral security partnership called "AUKUS" — Australia, the United Kingdom, and the United States.
Through AUKUS, our governments will strengthen the ability of each to support our security and defense interests, building on our longstanding and ongoing bilateral ties. We will promote deeper information and technology sharing. We will foster deeper integration of security and defense-related science, technology, industrial bases, and supply chains. And in particular, we will significantly deepen cooperation on a range of security and defense capabilities.
As the first initiative under AUKUS, recognizing our common tradition as maritime democracies, we commit to a shared ambition to support Australia in acquiring nuclear-powered submarines for the Royal Australian Navy. Today, we embark on a trilateral effort of 18 months to seek an optimal pathway to deliver this capability. We will leverage expertise from the United States and the United Kingdom, building on the two countries' submarine programs to bring an Australian capability into service at the earliest achievable date.
The development of Australia's nuclear-powered submarines would be a joint endeavour between the three nations, with a focus on interoperability, commonality, and mutual benefit. Australia is committed to adhering to the highest standards for safeguards, transparency, verification, and accountancy measures to ensure the non-proliferation, safety, and security of nuclear material and technology. Australia remains committed to fulfilling all of its obligations as a non-nuclear weapons state, including with the International Atomic Energy Agency. Our three nations are deeply committed to upholding our leadership on global non-proliferation.
Recognizing our deep defense ties, built over decades, today we also embark on further trilateral collaboration under AUKUS to enhance our joint capabilities and interoperability. These initial efforts will focus on cyber capabilities, artificial intelligence, quantum technologies, and additional undersea capabilities.
The endeavour we launch today will help sustain peace and stability in the Indo-Pacific region. For more than 70 years, Australia, the United Kingdom, and the United States, have worked together, along with other important allies and partners, to protect our shared values and promote security and prosperity. Today, with the formation of AUKUS, we recommit ourselves to this vision.