Agri-Market Reforms: Some facts to seize apprehensions of farmers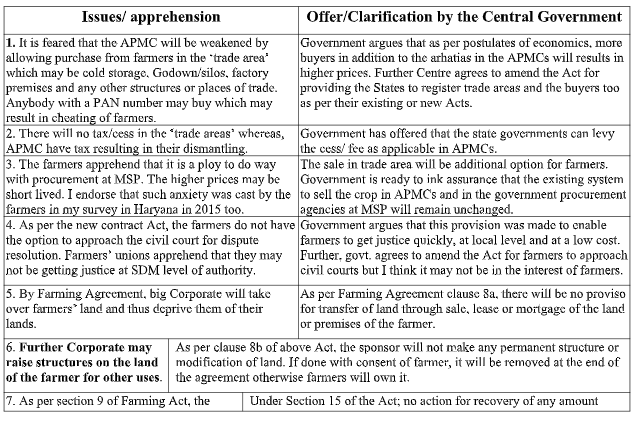 Farmers are protesting against the three farm-laws viz., the Farmers' Produce Trade and Commerce (Promotion and Facilitation)to allow sale outside the APMC, Farmer (Empowerment and Protection) Agreement on Price Assurance and Farm Services for farm contracts and the Essential Commodities Act (Amendment)for deregulating stock limit. These Acts were passed in Parliament on 20 September 2020 from the hurriedly promulgated ordinances on 5 June 2020. Farmers of Punjab are protesting since promulgation of ordinances. At that I opined that the first two Acts may dismantle the Agricultural Produce Market Committee (APMC) and the minimum support Price (MSP) regime (The Tribune, 28 Sept.). Punjab farmers reached at the Boarders of Delhi (Singhu, Gajipur and Tikri) on 26 November 2020 and Later on, the farmers of western UP and Haryana especially supported by their Punjabi farmers joined the agitation which is still going on. Since then, 11 rounds of talks have taken place between farmers and Central government. The farmers are bent upon for repeal of the Acts in Toto and the demand for Act for MSP was also added later while the Centre has offered some amendments to the Acts and their postponement for one and half years. The paper discusses; how far, the offered amendments in Acts address the issues raised by the farmers?
Despite the facts and amendments offered by the Central government broadly in responses to apprehension of the farmers; they appear poles apartment for agreement. It may be the Trust deficit amid the farmers and the Government which may be biggest barrier to reach amicable solution. Nobody can deny the farming is becoming unviable mainly due to decreasing size of holding and it may require big policy changes like the laws of inheritance and others to take out unviable farmers from agriculture. Let us hope that some leaders of big political Partiers of Punjab, Haryana and western UP may play the role of Samaritans to influence farmers unions to come to an agreement in the long term interest of suffering farmers.
END OF ARTICLE