8 Times Bollywood Stars made repeating outfits a cool trend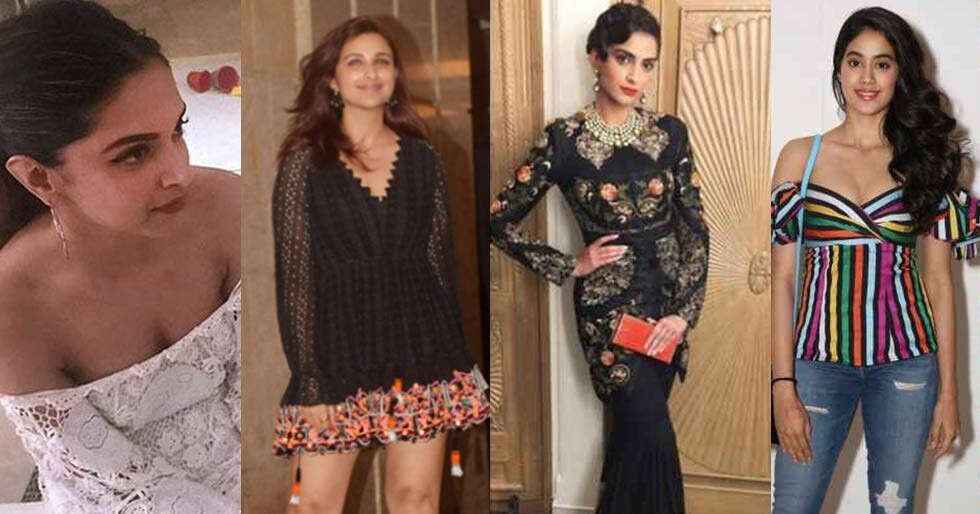 The pandemic has resulted in a series of changes in the fashion landscape. Some trends have resurfaced from the past along with the ones that have been created in recent times. Sustainability and ethical fashion seem to have become the most talked about topic in the fashion industry. Lots of designers and celebrities have come out in support of choosing need over want and not over-indulging. This has led to normalizing the trend of repeating outfits. Let's have a look at a few of our favourite leading Bollywood ladies who have made use of this trend in the past and might join the bandwagon again.
Deepika Padukone
One of India's most loved actresses has always stood up for the right kind of trends and incorporated them into her style file to leave a positive impression. Deepika has often repeated her outfits and done so proudly, looking splendid nevertheless. One of the instances was when Deepika wore a casual off-shoulder white lace dress to SRK's birthday bash back in 2017. She was seen wearing the same outfit for the first time, a year back, at an award ceremony.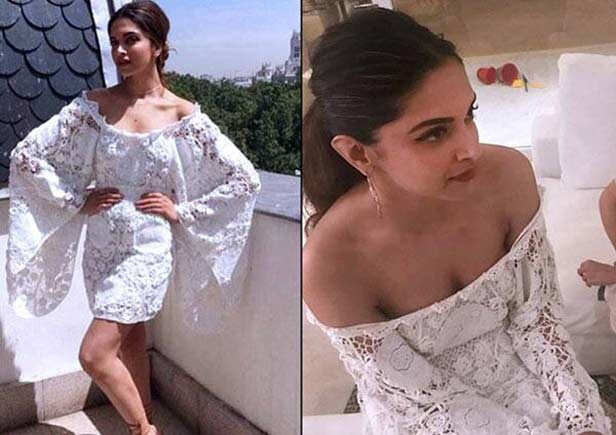 Kangana Ranaut
Kangana Ranaut has followed the trend in her way. One of her outfits where she was seen wearing a checkered front thigh slit skirt with a matching bralette, was seen being worn by her twice for two different film promotions. The outfit looked flattering on her each time and she carried it off with effortless confidence. She didn't make a big deal out of it as she looked every bit chic both the time going about busy with the respective promotions at that time.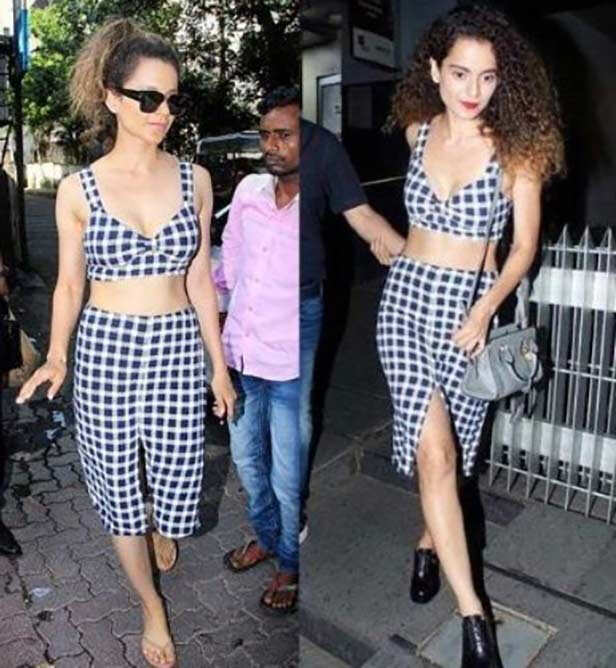 Her instance of repeating outfits worn is quite special. A beautiful Abu Jani Sandeep Khosla neon green Anarkali that she had first worn back in 2012 at her father Saif Ali Khan and Kareena Kapoor's wedding reception – was repeated in 2017 where she wore the same outfit to a Diwali Party and looked every bit as gorgeous as the first time. There were a few alterations made in the neckline to bring in more depth but the outfit was pretty much the same. However, what makes it special are the events she wore it to.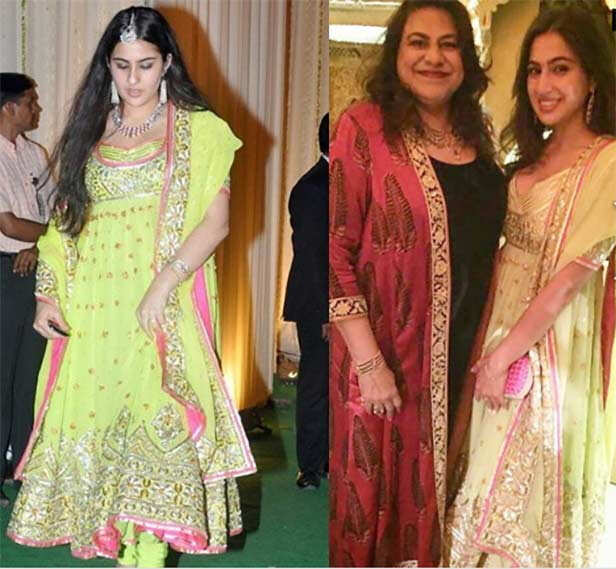 Janhvi Kapoor
One of the youngest successful star kids in the industry and there are plenty of millennials following her for some fashion inspiration. Therefore it is nice to see that she has been a part of the repeating outfits bandwagon herself setting a sustainable example altogether. One of her most stylish looks was when she wore an off-shoulder Caroline constas top with multi-coloured stripes and paired it up with ripped denim. She was first spotted in that look back in 2016 in one of her US trips. She repeated the outfit as she headed to the Ed Sheeran concert in India the following year in 2017.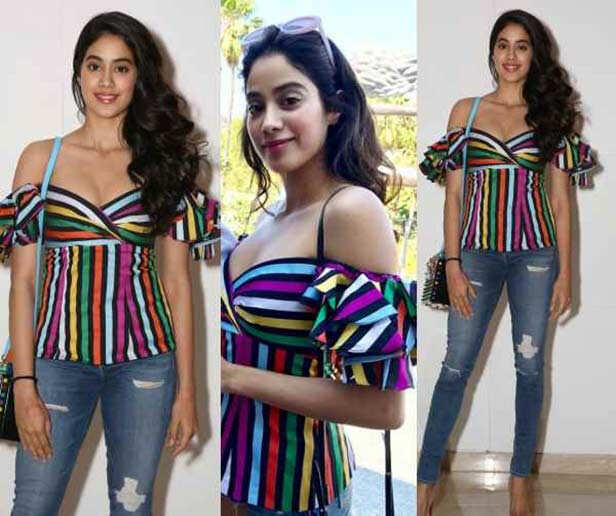 Malaika Arora
Age is just a number and Malaika is a classic example of that saying. She seems to be turning even more glamorous with each year passing by. Malaika looked super chic in a blue checkered crop top back in 2017 when she was vacationing in the US, where she has paired it up with a pair of blue denim and classic white sneakers. She was seen wearing the same checkered crop top but this time she paired it with a flowy white ruffled skirt as she headed out for brunch in the same year.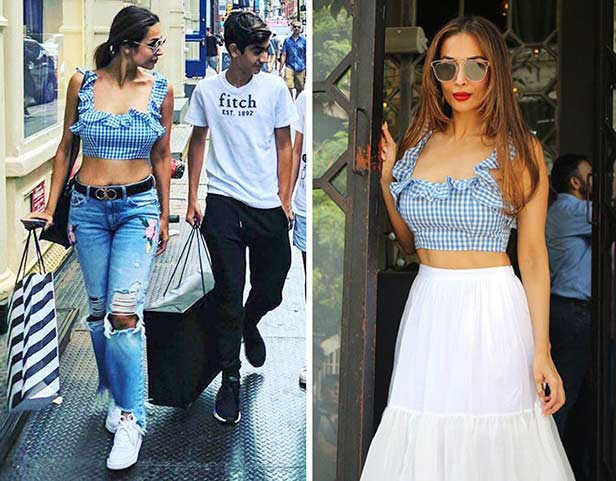 The iconic fashionista of the Indian Film Industry, Sonam Kapoor does not only follow trends, but she also makes them too. She is seen promoting and supporting many fashion brands on her Instagram handle as well. It is a known fact that Anamika Khanna is one of her all-time favourite designers. Thus, it does not come as a surprise that the diva looked resplendent in an Anamika Khanna jacket that she had paired up with a black sharara at a 2014 awards ceremony. She repeated the same outfit in another awards event in every same year without any regrets and acing the red carpet game.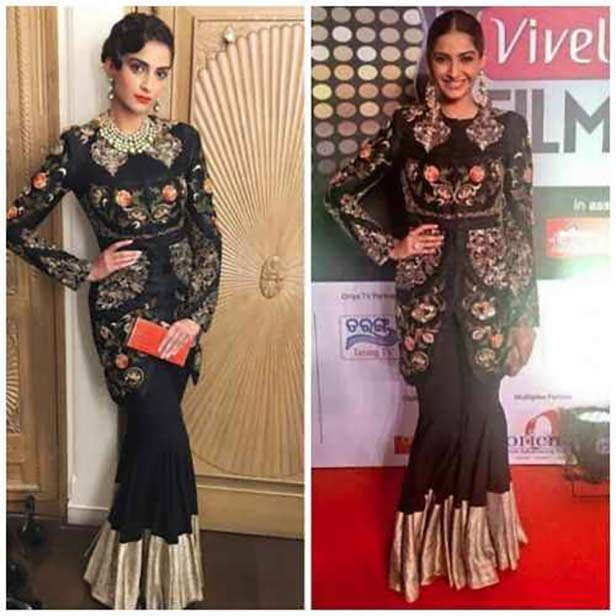 Anushka Sharma
Anushka Sharma is always up for fuss-free clothing. She has gone on record to say how she is not a fan of shopping and loves to keep it simple, casual, and comfortable most of the time when she is not attending events or doing promotions. The actress looked comfortable in a pair of grey checkered trousers, paired with a white cami and denim jacket twice. Both the times these were her airport looks accompanied by her husband Virat Kohli.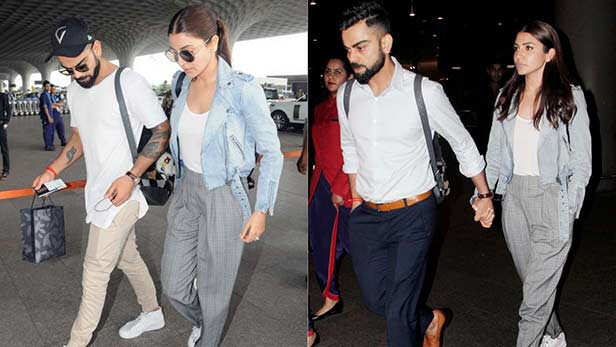 Parineeti Chopra
The bubbly actress has hardly ever disappointed her fans or critics with her style game. She was seen repeating an outfit of a net black dress by designer Hemant Nandita back at the roka party of her cousin Priyanka Chopra with Nick Jonas. Before that, she was seen wearing that same outfit when she was busy shooting in Dubai. A casual and chic look, she looked absolutely at ease as she was spotted wearing it and posing for pictures.